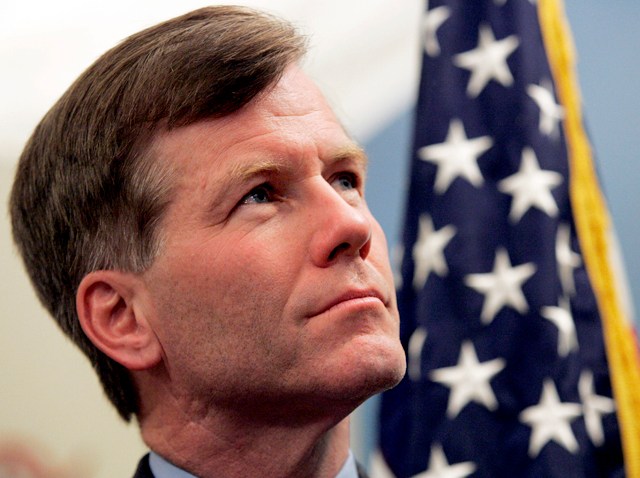 Virginia Gov.-elect Bob McDonnell said he will take a pay cut once he officially takes over the reigns of the state.
How much of the $175,000 available in the proposed budget will he take? He didn't reveal that during an interview Monday in his transition office, according to the Culpeper Star-Exponent. He also didn't say how long that pay cut would last.
But if you think McDonnell is just taking one on the chin for the good of the Commonwealth all by himself, think again. He told the paper he will cut the salaries of all Cabinet secretaries, as well -- about 5 percent for at least six months. They were scheduled to make about $150,000 a year, but McDonnell's cut will put a crimp in their style.
At least one proposed member of his team, future Secretary of Commerce and Trade Robert Sledd, said he'll take it one step farther and work for nothing. Now that's the sign of a real team player! But there's got to be a catch, right? Right.
Sledd said he'll do it if he can remain on the boards of two businesses -- a tobacco company in Richmond and a medical-supplies distributor in Hanover County.
Conflict of interest? What? Where?
McDonnell, however, doesn't see it as a big deal if his man in charge of commerce and trade still has ties to boards of companies linked to the tobacco and health-care industries.
"I have absolute confidence in the ability of Mr. Sledd to do a great job to realize what the conflicts are, and in those rare cases where they may arise, we'll have a different decision-maker," McDonnell told the paper.
How often could those rare cases come up? The Star-Exponent puts it in perspective:
As secretary of commerce and trade, Sledd would oversee 13 state agencies, including the Virginia Economic Development Partnership, which tries to attract industry - potentially including competitors of companies on whose boards Sledd sits.
Despite the potential conflicts, McDonnell is considering Sledd's offer, which he believes could allow for more people to be hired in that department.
"I think that's a lot to ask for somebody like him to work year-round for the state and not ask for a salary," McDonnell told the paper.
And besides, the perks of doing so could be even better.