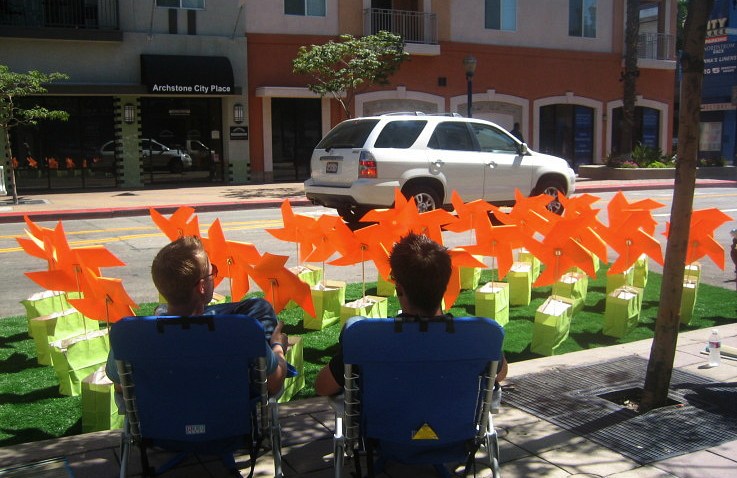 Yeah, parking in D.C. costs roughly $400 an hour -- OK, so we're exaggerating just a teensy bit -- but PARK(ing) Day is turning a 14th Street parking lot into a temporary park for the day.
PARK(ing) Days are held in cities across the world, from Auckland to Zurich. This is the first time D.C. is joining in the civilly disobedient fun, although the weather doesn't seem to be cooperating today.
The event began in San Francisco in 2005, to demonstrate that far too much of downtown areas cater to cars, and far too little remains for actual human enjoyment.
Local shop Garden District recently saved the day for D.C.'s event. Originally, the PARK(ing) group had planned to convert four on-street parking spaces into parks for the day, in neighborhoods including Georgetown and Adams Morgan, said planner Justin Young. But complications in getting permits put a crimp in their plans.
Garden District is in the process of moving to a new location (1740 14th St. N.W.) across from its current spot at 1740 14th St. N.W. The new location includes a large parking lot, so the shop is welcoming the PARK(ing) people to use a portion of the lot from 11 a.m. to 9 p.m.
Bring some lawn chairs, your dog, a frisbee, one of those huge old '80s boomboxes, whatever. That is, if the weather cooperates. If not, slap on some wellies and go play in the puddles.
Go see galleries of past parks to get the (whimsical) idea. And then take a looooong lunch break.