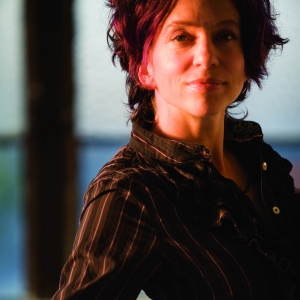 Ani DiFranco has released an album almost every single year since her debut in 1989. And with each album, she gets progressively more profound and continues to evolve (Which also happens to be the name of her 2003 album). Ani is one of those artists that has been stuck with the stigma of "angry rocker chick." True, she does have her fill of angst-ridden songs, but Ani only writes what she knows and what she's experienced, which is proven by nearly 20 years of fiery lyrics and vigorous guitar-playing.
With Ani DiFranco's new album, "Red Letter Year," it's plain to see that "Angry Ani" is gone. At least for now. A mellower, satisfied, fulfilled Ani sings on this album. An Ani who seems to have found some peace ever since becoming a mother last year. "Present Infant" is a message to her daughter and all about her daughter's right to be happy.
VIEW THE PHOTOS: On The Download
She sings about how she sees a lot of herself in her child; giving her daughter advice for the future and telling her to take time to enjoy life. I saw her perform this song at her concert earlier this year. Even from far away, I could see the joy on her face when she sang it, giggling her way through the song.
The same adoration and excitement for her daughter can be found in the song "Landing Gear." With lyrics like "you're kicking me in the rib" and "you're gonna love this world if it's the last thing I do," she takes a less quixotic and more realistic view of the world for her daughter, and also paints an in-depth picture of what her pregnancy was like.
VIEW THE PHOTOS: On The Download: Jon McLaughlin
"Smiling Underneath" takes a positive look at bleak and frustrating situations. The song itself is slow, somber, and somewhat haunting. But the lyrics basically state that her entire world could be falling apart - she could have money problems, physical pain, be stuck in a horrific traffic jam - but none of that matters if she's with the one she loves.
Though a lot of the songs on this album show a more docile side to Ani, she still has her strong opinions and is not afraid to voice them. "Alla This" is a perfect example of how unwavering she is. She has always been unapologetic in her song writing. And this song, which slowly builds up to a cathartic end, shows her ability to write lyrics that just make sense. She often takes things that people wonder about every day and she thinks to actually put it down on paper.
As always, her skills as a musician are very present throughout the whole album. Her guitar playing never ceases to amaze me. And although her guitar-playing dexterity doesn't reach it's full potential on this album, it can still be felt even if it's just a gentle strumming, like on title track.
VIEW THE PHOTOS: The Ting Tings
Do I miss "angry Ani?" Sure. It's kind of like when Alanis wasn't so angry anymore. It took some getting used to. But there's still some frustration inside her, bubbling under the surface. Granted, in "Red Letter Year," she's a little more subdued, but also a lot more experienced. Through her words, you can tell this woman has been through a lot.
And she's not done experiencing life. For her, this is only the beginning.
Related Content from AccessHollywood.com:
PLAY IT NOW: Music Video: Brandy 'Right Here (Departed)'
PLAY IT NOW: Music Video: Gabriella Cilmi 'Sweet About Me'

MORE ACCESS ON THESE TOPICS: On The Download - SAG - Music - Rock - LGBT

Copyright NBCAH - Access Hollywood