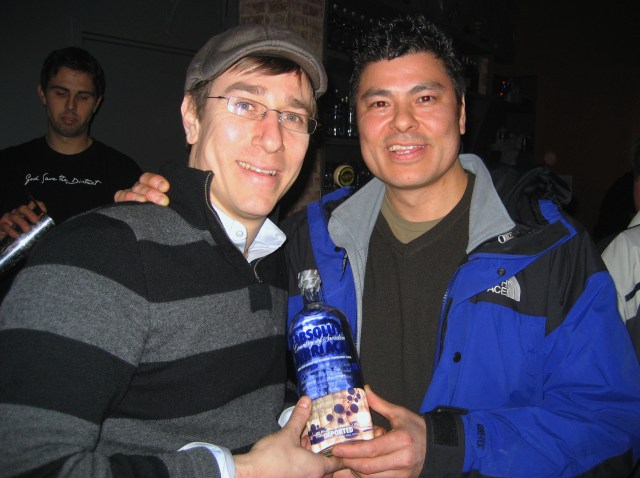 Dennis Asaka and Derek Brown claim to be the only local mixologists who have ever tended bar at the White House. Neither, however, will dish on whether they served President Obama a cocktail.
But things may have been different if they offered to mix him an Irish Blue, one of Brown's signature drinks made with Absolut Berri Acai, which was featured at the vodka brand's launch last night at Brown's night time hot spot, The Passenger.
"We're debuting [Berri Acai] here, inviting bartenders in D.C. to come and try the new flavor because everyone respects Derek," Asaka said Sunday night. "He's a mixologist that really knows what's going on with the cocktail scene."
Brown, a pioneer of D.C.'s cocktail lounge concept, said he agreed that his affinity for mixing drinkings makes him an example -- and more than a little touchy about his profession.
"I'm obsessive compulsive," he confessed. "I even have my stirring technique perfected with rice."
Brown boasts about a recipe for a phenomenal martini that he would love to make when next he serves at the White House. Though Obama will have to appreciate that it's not shaken, it's obsessively stirred.