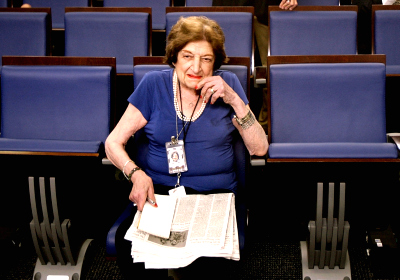 Veteran White House reporter Helen Thomas' decision to retire in the wake of her controversial remarks about Israel was not the result of outside pressure, said her former agent who severed professional ties from the journalist following the comments.

"Helen's family has been with her, and she is continuing to live her life," said agent Diane Nine, who dropped Thomas from her agency early this week but said she remains friends with the news vet.

"I do know that her decision to retire was her own."

The firestorm erupted after comments Thomas made to RabbiLive.com on May 27 began to surface on the Internet. Thomas states in a video interview that Jews should "get the hell out of Palestine" and "go home." The White House on Monday condemned the remarks.

Diane Nine said Thomas, who turns 90 in August, continues to have the support of friends and family.

"Helen is caring, empathetic and always there when a friend needs her -- she deserves to have her friends rally around her now, and they are," she said. "People who care about Helen should show her they care -- and they will. She has more friends than anyone I know."
Thomas' former agent also said she doesn't believe the recent remarks will tarnish Thomas' illustrious career.

"I still believe Helen's real legacy will be her incredible, long career peppering presidents with tough questions -- and trying to get the truth to the public. ... In addition, she has broken barriers for women to make the world a better place for my generation, and all those that follow."