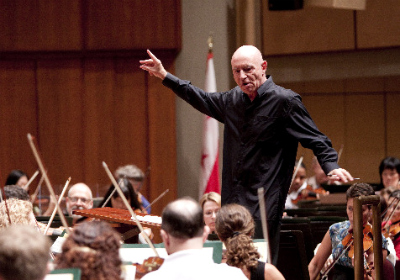 Ann Friedman, wife of author and New York Times columnist Thomas Friedman, was a particularly proud patron at the National Symphony Orchestra's Opening Ball this season, smiling as the new Maestro took to the stage for an energetic and impressionable performance.
Having served on the selection committee that chose world renowned Maestro Christoph Eschenbach as the Kennedy Center and National Symphony Orchestra's new Music Director, Friedman admitted that when they found out Eschenbach was looking to leave his prior post, he immediately became a top option.
Though the orchestra had to wait two years to finally celebrate Eschenbach's NSO debut due to contractual obligations in other cities -- coincidentally on the Orchestra's 80th season opener -- he brought sensation with him from the start.
Operatic soprano Renee Fleming and Pianist Lang Lang, both close friends and mentees of Eschenbach, made special guest appearances during the season opening production, wowing the audience with their talent and remarkable connection with the conductor.
"It was incredible, And of course this is just the first performance. We'll look forward to seeing the rest of the season and what's to come for the remainder of his contract."
"Doesn't it just make you want to jump up and waltz?"