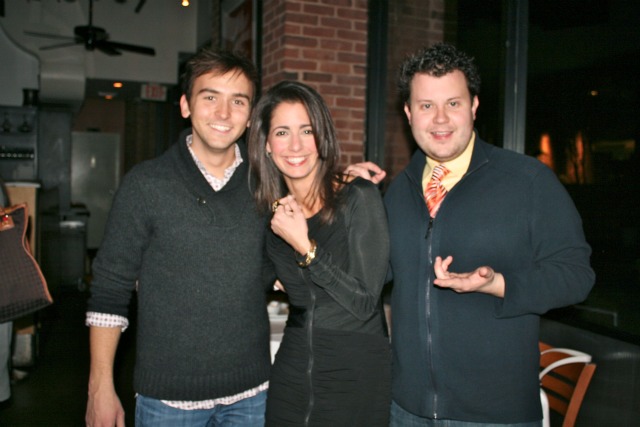 "No Strings Attached was surprisingly fantastic," Tommy McFly told Niteside. "The premise, Natalie Portman and Ashton Kutcher are best friends who hook up and try to keep 'doing it' without getting emotionally involved, is a laugh out loud movie. The on-screen 'encounters' last a little longer, the script is quick and topical, the laughs are endless."

McFly is 94.7 FRESH FM's hot new Afternoon Drive talent whose on-air presence is energizing the driving experience.
"The new gig is pretty awesome," he said. "We are building up the station and our whole team is ready to cause some serious commotion in Washington. I hope you will 'Flip to Fresh' with me and enjoy the ride."

Part of that commotion is developing events like this screening, which he co-hosted with Kelly Collis of CityShopGirl, an e-mail alert newsletter for shopper discounts from boutiques to restaurants and spas in and around D.C. In 2011, Kelly was named by Capitol File Magazine as a top 5 influencer in the Washington area.
We suspect her influence will ramp up ticket sales by her take on the flick.
"The movie was fantastic -- a sort of modern day 'When Harry met Sally'," she said. "Ashton Kutcher was (an) adorable and likable character. All the buzz afterwards was whether or not the butt shot was really him or a double -- with a majority of women in the audience that was a popular scene. Even the few men that were there enjoyed the movie, a little raunchy and laugh out loud funny."
Which takes us to one of the few men in the audience -- Brendan Kownacki of Merge Creative Media.
"The movie was actually pretty good," he said. "It was lighthearted and a breezy look at the way relationships work these days ... casual and full of text messaging. The crowd seemed to react positive to the ups and downs of the film and almost shocked during an early scene that depicts a full sexual encounter without ever cutting away. It wasn't lewd or graphic, but I heard several people comment that it felt like you were awkward standing there watching this.
"Ashton and Natalie showed good chemistry as they pursued and withdrew from one another trying to abide by their 'no strings attached' pact -- and Kevin Kline emerged as an unexpected treat of the film as the philandering father of Ashton Kutcher, shedding light for the characters and the audience on what a life refusing to commit can lead to."

No Strings Attached opens in theaters on Jan. 21.