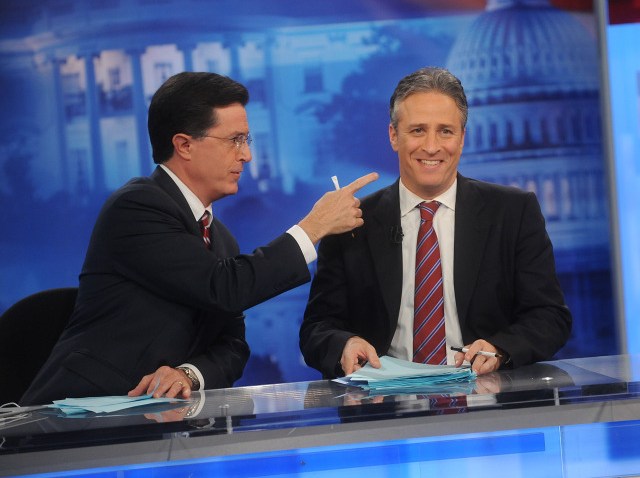 Jon Stewart might have finally lost his mind -- and it appears that he's coming to Washington to find it.
"The Daily Show" comedian has announced that he'll hold a "Rally to Restore Sanity" on the National Mall on October 30, clearly a spoof on the "Restoring Honor" rally held by Glenn Beck on the Mall that featured Sarah Palin.
If you're going to spoof an event like "Restoring Honor," you might as well go all the way. The Rev. Al Sharpton held a "Reclaim the Dream" rally the same day as Beck and Palin's march; Stewart is turning to his good pal, Stephen Colbert, for his rival rally.
Colbert, who hosts "The Colbert Report" on Comedy Central, will be holding an opposing event the same day.
Stewart described his rally as "Woodstock, but with the nudity and drugs replaced by respectful disagreement; the Million Man March, only a lot smaller, and a bit less of a sausage fest."
Colbert's rally will be called "March to Keep Fear Alive."
"Ours is a rally for the people who've been too busy to go to rallies, who actually have lives and families and jobs (or are looking for jobs)," Stewart's rally website boasts. "Not so much the Silent Majority as the Busy Majority."
Colbert, meanwhile, is encouraging attendees to bring an overnight bag and five extra sets of underwear.
And if you're wondering, National Park Service spokesman Bill Line said Colbert and Stewart have filed a single application for a permit to host 25,000 people. It hasn't been approved yet.
Copyright AP - Associated Press