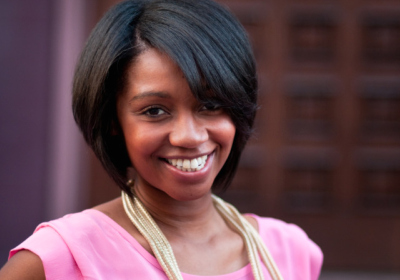 Helena Andrews, author of one of the most highly anticipated memoirs of the summer, is redefining what it means to be young, single and fabulous. "Bitch is the New Black" is a collection of tongue-in-cheek essays from Andrews' point of view that goes beyond popular Candace Bushnell material like "Sex and the City." Andrews offers a fresh perspective on what it means to come of age in the District with some highly hilarious (think going on a "non-date" with President Obama's body man Reggie Love) yet very heavy-hitting (think dealing with a close friend who committed suicide) issues.

Andrews chats with Niteside about her upcoming memoir, dating in D.C. and how difficult it is to create your own path as a successful woman in one of the most powerful cities in the nation.
"Bitch is the New Black" is a memoir-turned-movie due out in June, but why the term "bitch"?
We had a lot of different working titles like "Dirty Astronaut Diapers" because I was fascinated by
Lisa Nowak
, the former astronaut who drove 5,000 miles to stalk her lover's mistress. This is a woman who is successful, seemingly really smart but who totally ruined her life for a guy. ... But I was watching "Saturday Night Live" and they were talking about
Hillary Clinton
during the election and [Tina Fey] said, 'Bitch is the new black!' in defense of her. Successful women are often marginalized and categorized as being bitches ... but is that necessarily a bad thing? Being a bitch is in vogue for the modern woman.
The book is really a tongue-in-cheek depiction of single living in D.C. Still what are some dating tips you would give to women looking for a mate in the District?
I never give advice because I'm not an expert, but I will tell you what I tell my girls. ... We can fall into certain patterns when it comes to our dating life. Why are you constantly going to the same club that you can't stand, thinking you're going to meet someone there? You've got to switch it up. ... Don't fall into the same pattern, the same routine. That's going to yield the same results.
Tell me about being set up with Reggie Love?
Honestly it was a total non-date. ...Maureen Dowd, who I used to work with at
The New York Times
, mentioned Reggie to me more than once just saying that we should meet. ...I was thinking to myself, "Oh, whatever!" because I didn't know much about him... [but] we met at Marvin. He was a perfect gentleman, very nice, and it was very obvious that we were only there because Maureen set it up and we didn't want to say, "No." ... We had two beers and then he walked me home at the end of it and said, "I'd be honored if we can hang out when I get back in town," because he was still on the campaign trail. He wasn't even living here! I'm sure he only said that because he's a nice guy.
Most people heard your name and your book "Bitch is the New Black" from a profile written about you in The Washington Post. The feature caused such a stir in D.C. and across the Internet. Do you think that article painted an accurate picture of you?
I think the article depicted one side of me but it's not the only side. In the end, it kind of proved my point, and it's why I wrote the book "Bitch is the New Black." You see only one side of a woman and you might think she's a bitch [or] she's cold but you don't know the rest of her.
How do you feel about the negative backlash the article produced? Did it change your writing?
No! God. Not in the least. It's funny when people talk about the negative backlash because the positive energy was ten times greater. ... If you write for critics then you aren't a writer.
Are you still a single woman? I'm not married. ...There is a man in my life but he is not my husband and I'm happy. And if I'm not happy, it's not necessarily because of that factor, it's because growing up is hard and becoming an adult is difficult. But my happiness isn't necessarily dependent on who decides to put a ring on it.

Ultimately, do you want the family, the kids, the house with picket fence plus dog? I have absolutely no idea. You know what? No, living in the suburbs would steal part of my soul. I'm not positive that I want to have kids. ... I don't know. My life right now is deciding what's important to me and how I see myself as successful. ...I think I'm doing things how I'm supposed to be doing them.
"Bitch is the New Black: A Memoir by Helena Andrews" hits bookshelves on June 1. The yet-to-be-released memoir has already been picked up by Fox Searchlight to be turned into a movie. The film is still in pre-production.