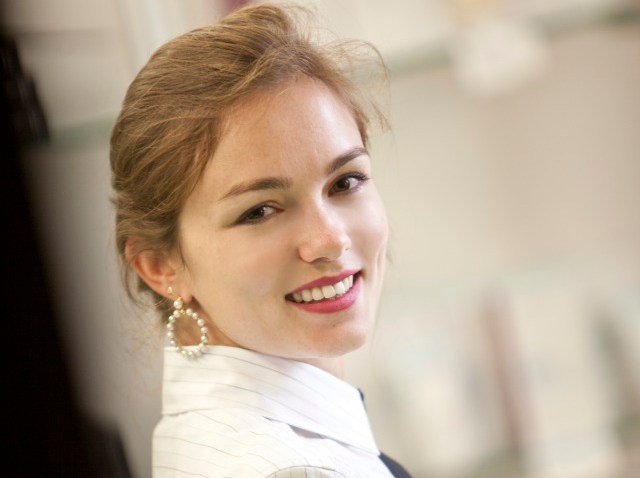 Georgetown grad Ada Polla knows from skin care. Her dad was the first European doctor to use lasers during cosmetic procedures and her mother has extensive experience researching cellular aging. So when Polla talks about her skin care company, Alchimie Forever, you should probably listen.
How'd your skin care line start? It's actually a family business that was started in 2000 by my parents who are both medical doctors. I was involved from the very beginning, but took over full time in 2004. They opened one of the first medical day spas in Europe about 20 years ago. The line was originally created just for our clients, but when I came in full time I decided that we should distribute on a national scale and expand the line here to the U.S.
What's been the most challenging part of running the company? There's many [challenging aspects] of course, but one that comes to mind is the beauty industry in general. There are a lot of skin care lines, so it's challenging to constantly separate your brand from others and to make that connection with the consumer.

Has the recession affected your brand? I'd say so, especially because we are a brand-new company. We have to consistently stay on top of running the business during this economic storm and at the same time find a way to make it grow.
Why'd you choose D.C. versus other cities to open your store/ showroom? I moved to D.C. in 2002 when I attended business school at Georgetown, so I've loved it here for a while. When we first started to look for a location to open the store, I couldn't think of a better place than Georgetown. A lot of people questioned why I didn't move to New York or L.A., but I knew D.C. offered something special. This is more of a spa city than most people think!

What do you think about the District's current spa industry? I think the potential for D.C. to be a great spa town has real potential, it might not compete with resort spas like they have in Arizona, but the spa industry here is definitely on its way to standing out even more nationally.

What celebrity would you love to work with when it comes to skin care? Well, Mary Amons is a fan of our line, and I love her. I would definitely love to work with the President and First Lady. I sent them both products, and they sent a really nice note back that they both signed. We framed it of course. Essentially I'd like to work with anyone who would be great for the line.
What advice can you give to rising entrepreneurs? Do what you love and the money will follow. Also, just be persistent, even in these times. It requires a lot of patience, but it pays off.