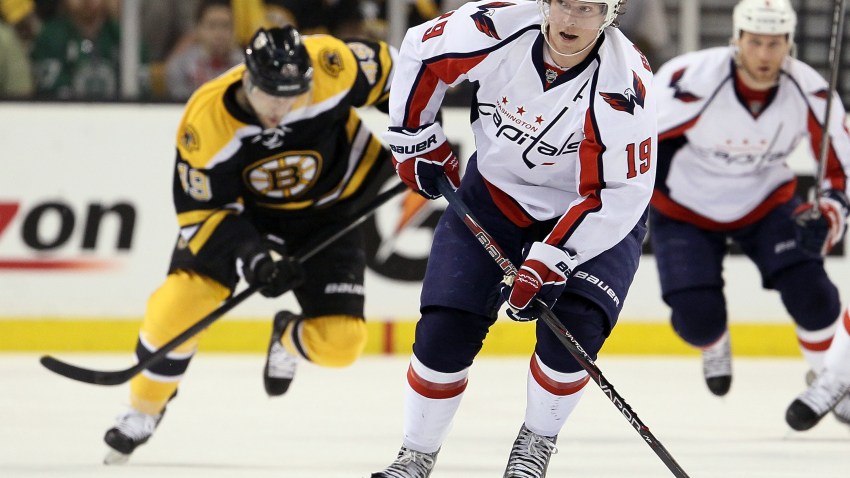 Washington Capitals forward Nicklas Backstrom's one-game suspension has been upheld and he will miss Game 4 of the Caps' Eastern Conference Quarterfinal series against the Boston Bruins after receiving a cross-checking match penalty at the end of Monday's 4-3 loss.
As the final horn sounded and the Bruins took a 2-1 series lead, Bruins forward Rich Peverley tripped Caps forward Alex Ovechkin on one end of the ice. Backstrom came to his captain's aid, but in doing so, struck Peverly in the face with his stick.
Match penalties warrant an automatic one-game suspension, so Backstrom was essentially guilty until proven innocent and the NHL decided to uphold the ruling.
"Even though Backstrom might have felt threatened by Peverley's stick, the fact is Peverley is in a defensive stance and it is Backstrom who is approaching him," Brendan Shanahan of the Department Of Player Safety explained in the video above. "Backstrom's reaction is excessive and reckless."
The suspension will come as a surprise to head coach Dale Hunter, who was adamant Monday that Backstrom would not be suspended.
The Caps will have to go without Backstrom in a pivotal game Thursday. He will be eligible to return Saturday for Game 5 in Boston.
---
Adam Vingan is co-founder and editor of Kings Of Leonsis, a Caps-centric blog, and is the Capitals Editor for SB Nation. Follow him on Twitter @Adam_KOL and e-mail your story ideas to adamvingan (at) gmail.com.