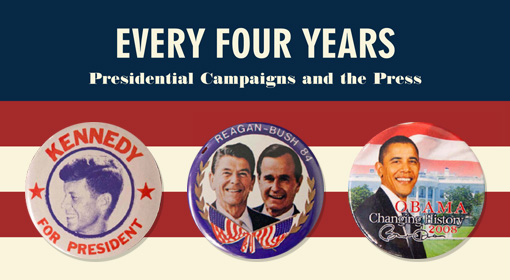 Remember when Tina Fey, as Sarah Palin, assured Americans she can see Russia from her house? The "Saturday Night Live" skit nearly eclipsed some of Palin's real-life sound bites.
Now you can relive the hysterical, the historic and the iconic moments of the election cycle at the Newseum's newest exhibit, "Every Four Years: Presidential Campaigns and the Press."

While presidential elections only happen every four years, technology is being updated at a much faster rate, continually providing new platforms for candidates to reach their audiences. The way people are getting their news has changed from newspapers and TV to Twitter and Facebook. The new exhibit at the Newseum (555 Pennsylvania Ave. NW) examines the evolution of media coverage during campaigns over the past hundred years, right up to the current GOP nominee race.

You'll find more than 120 artifacts from campaigns dating back to the 1800s, including a microphone FDR used to deliver his fireside chats, handwritten notes JFK used during a 1960 debate with Nixon, and the outfits Tina Fey and Amy Poehler wore to portray Sarah Palin and Hillary Clinton.
Get a firsthand look of technological innovations while watching an original video on televised campaign ads, shown on a 100-foot-wide video screen. Watch the commercials Lyndon B. Johnson, Ronald Reagan and John F. Kennedy released during their campaigns, including the notorious ad featuring a daisy-picking little girl and nuclear distruction.
The exhibit also features interactive activities: Create your own campaign photo ops and cast your "vote" for president in a special Newseum voting booth. Every Four Years will be updated throughout the 2012 campaign to ensure visitors can find the most up-to-date news and photos from the campaign trail.
---
Check Out the Scene: Keep up with what's happening in the D.C. area anytime, anywhere. Follow us on Twitter and Facebook. Sign up for our e-mail newsletters.