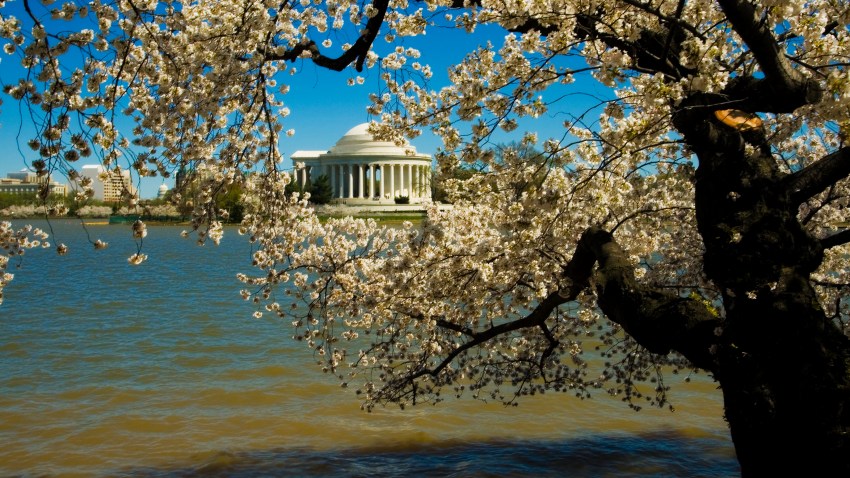 The National Cherry Blossom Festival is wrapping up this weekend. The pollen count is at about a zillion, and the blossoms have officially peaked. Your sinuses may be feeling kind of spent -- but as far as cost goes, many of the festival events are free.
Some fun things to do that don't cost a dime:
The Cherry Blossom Festival Parade (Constitution Avenue between 9th and 15th Streets N.W.); parade free; grandstand seating ticket info here -- Saturday, April 10, 10 a.m.

The 50th Sakura Matsuri Japanese Street Festival (Pennsylvania Avenue and 12th Street N.W.) hosts live performances on five stages, Japanese marketplaces, food and two Kirin Ichiban Beer Gardens -- Saturday, April 10, 11 a.m.-6 p.m.

Daily music, dance and performing artists at the Target Performance Stage at the Sylvan Theatre (15th Street and Independence Avenue S.W.); (see schedule here) -- Now through Sunday, April 11, noon

Family Fun Zone near the Thomas Jefferson Memorial -- Saturday and Sunday, 10-11, 10 a.m.-5 p.m.

The Cherry Blossom Ten-Miler (Washington Monument grounds, 15th Street and Jefferson Drive): If you're not up for the ten-mile run, opt for the 5K walk. No need to get all sweaty, right? -- Sunday, April 11, 7:45-11 a.m.
See the complete list of events here. Feel like a (short) trip? Some of the events spill out into Maryland and Virginia.