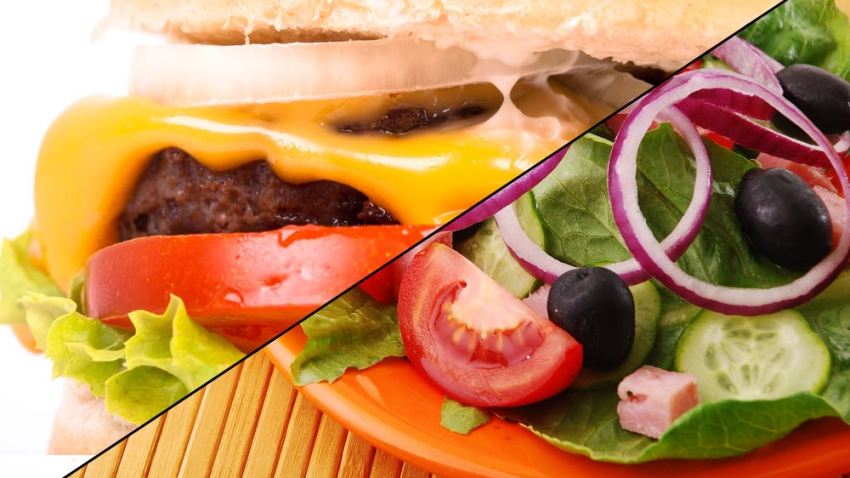 It's the age-old dilemma. The devil on one shoulder, the angel on the other. Are you gonna go with the salad, chock full of veggies, nutrients and precious, precious fiber? Or the thick, juicy burger (which, let's face it, is what you actually want)?

Modern-day problems. They're tough, all right?

And now restaurant folks are looking to shove this dilemma right onto our plates, because astonishingly, May manages to be both National Burger Month and National Salad Month. This is just cruel.

So, you can, erm, "celebrate" by visiting any of a handful of local restos who are running burger specials this month, such as the 701 Burger made with Roseda beef and topped with a fried green tomato, bacon and herb mayonnaise, served with fries ($13) at 701 Restaurant (701 Pennsylvania Ave. N.W.).

AGAINN (1099 New York Ave. N.W. is dishing up a Virginia grass-fed-beef burger, topped with caramelized onions and farmstead cheddar on a house-made brioche bun, as well as a fish burger with marinated tomato, pickled fennel and saffron aioli on a brioche bun. Both are served with a choice of chips or house salad, for $14 or $15 each. The special is available weekdays from 11:30 a.m. to 2:30 p.m.

Other spots participating in Burger Month include Ardeo+Bardeo (3311 Connecticut Ave. N.W.); Hank's Oyster Bar (1624 Q St. N.W. and 1026 King St., Alexandria); BlackSalt (4883 MacArthur Blvd.) and Cafe Atlantico (405 8th St. N.W.).

Of course, if you're gonna listen to the angel on your shoulder instead (fine, fine, what a goody two-shoes), Litestars (2101 L St. N.W.) is offering 20 percent off discount all salads during May. Options include the Asian-inspired soybean chicken salad, the mango chicken salad, and vegetarian options such as the wheat berry cranberries salad.
Good luck with your painstaking decision.
---
Check Out the Scene: Keep up with what's happening in the D.C. area anytime, anywhere. Follow us on Twitter and Facebook. Sign up for our e-mail newsletters. Don't forget our iPhone app!