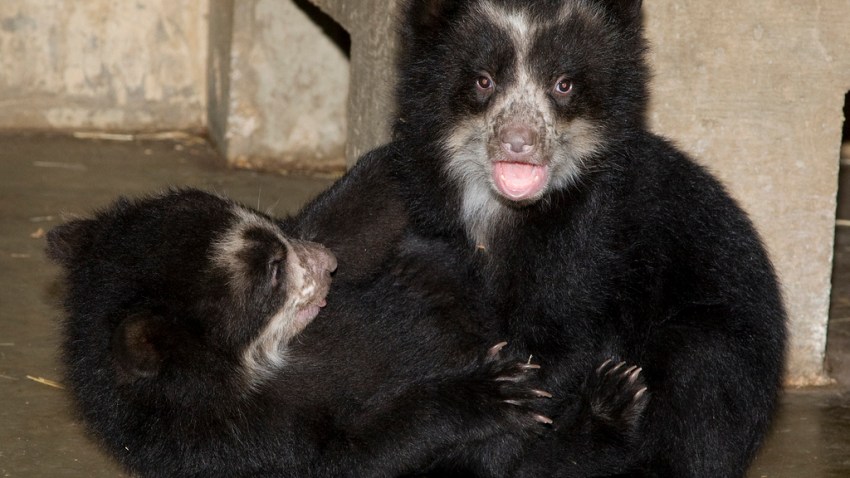 The National Zoo needs the public's help to name a pair of bear cubs.
The mama bear, Billie Jean, gave birth to two Andean bear cubs earlier this year. Now it's time for the Andean bear cubs to make their public debut next week, and they need names!
The public can choose online from four names for the male and female cubs that the Andean bear keepers, volunteers and the embassies of Peru and Venezuela (countries where Andean bears are found) have provided. People can vote through May 17.
The choices are:
Female:

Caridad: This Spanish name means "charity" and "kindness" and would be fitting for the beautiful female cub.
Paqarina: This name from the Quechua language means "dawn, daybreak, the beginning of a new day or rebirth -- a new opportunity to live." It is a "new day" for this species to prosper.
Chaska: This is also a Quechua word, originating in Peru. It is the name of the dawn star; many Andean women in Peru are named Chaska.
Roraima: This is a popular female name in Venezuela in honor of the beautiful Mount Roraima in the Amazon region. The mountain includes the triple border point of Venezuela, Brazil, and Guyana.

Male:

Bernardo: Spanish for "brave like a bear" or "strong, brave bear." Since these bears are found in South America, where the primary language is Spanish, this robust Spanish name is fitting of the Zoo's muscular, tough male cub.
Juco: This name originates from the Quechua language, native of the Andean mountains. A name from this language would be a tribute to the people of that region.
Churun: This is a popular male name in Venezuela and is also the name of a river that runs through the country. The river feeds into Angel Falls, the highest waterfall in the world (3,212 feet). The river and falls' beauty and strength reflect the Andean bear -- strong and beautiful.
Atiq: This is a Quechua word that means "winner" or "the one who achieves." The belief is that the birth and survival of these growing, thriving cubs is a real "win" and great achievement for the species.
Apparently, the Andean bear cubs are not shy. Bear keepers describe the cubs as being extremely playful and showoffs. They like to wrestle, even with their mother. Spectators say they have zero wins in that column.
The winning names will be announced May 19 at the Andean Bear exhibit.