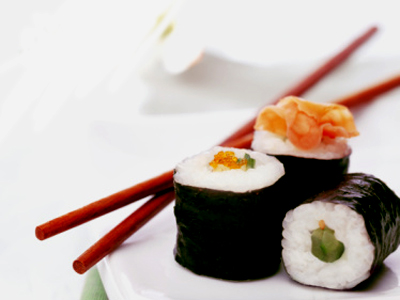 Did you ever expect to find dancing at a sushi restaurant, much less dancing to a Latin beat?
Every Thursday night the band Trio Caliente performs at the bar in Sushiko Restaurant in Chevy Chase. It has a Gypsy King kind of spirit and vibe and fills the air with that warm, exuberant music we come to expect from Latin guys with guitars.
The bar fills up fast and the drinks are flowing. Mo, the bartender, is so attentive you feel like you're at a barbecue in his backyard. He also mixes some beautiful beverages, layered drinks with ginger and pomegranate. One he jokingly calls Mo from the Holy Land, a reference to his Middle Eastern roots. We quickly dubbed it the "Mo Ho."
Sushiko is tops for sushi in this area and has established a fine reputation with its original restaurant in Glover Park, just north of Georgetown. This Chevy Chase location offers the same high caliber fare wrapped in a more hip decor. And with a Metro stop one block away and a parking lot outside the door, it's an easy destination for everyone in and outside the Beltway.
For vegetarians, Sushiko offers a vegetable sushi plate that looks like the real thing and is so delicious carnivores can't keep their chopsticks away, so order two.
Sushiko has a small outdoor cafe for these warm spring nights. Trio Caliente sets up just inside the door, so you can enjoy your meal and your Mo Ho and not miss a single Latin beat.