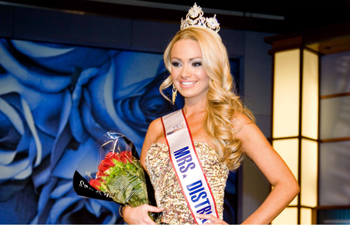 We know what you're thinking...Mrs. D.C. America?
Hey, just because a woman's married doesn't mean she has to hang up the tiara.
The 2012 winner, Arika Burton, 28, was crowned on Saturday at GW's Jack Morton Theatre (800 21st St. NW) -- and it was her very first pageant.
"I watched them [while I was] growing up, on TV," Burton said. "I always appreciated how glamorous and empowering they were to women. This is a more recent goal of mine, to actually participate in them."
To compete in the Mrs. D.C. America pageant, contestants must live and/or work within 25 miles of the District. They are judged in three categories: interview, swimsuit and evening gown, and the contestant with the highest overall score is crowned the winner.
"It says 'thank you' to the women who are committed in our community," said Mrs. D.C. America pageant owner and executive producer Raquel Riley Thomas. "She can spread the good word about [local] businesses. She's a connector."
Burton is a graduate of the University of Maryland, with bachelor's degrees in both finance and international business. Her platform is financial literacy.
"I believe that it is really important to educate our youth, our future business leaders, especially during this hard economic time," she said, adding that only 24 states currently have financial education requirements.
Burton will go on to represent the district at the upcoming 36th annual Mrs. America competition. "To bring my national platform to that level would just be amazing to me," she said.
For now though, "I'm just really proud to be representing D.C.," she said.