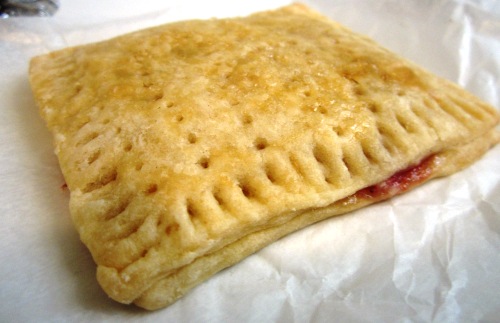 Ted's Bulletin (505 8th St. S.E.) isn't the only place in D.C. turning your favorite childhood pastry into modern-day comfort food.
Flying Fish Coffee (3064 Mt. Pleasant St. N.W.), which opened in Mt. Pleasant this past April, was offering its own homemade style of Pop-Tarts this morning, a red plum variety on special for $2 a pop, um, tart.
Flaky and lightly sticky on top, with a thin layer of tart fruit spread in the middle, it tasted a lot less stale and grainy than the boxed Kellogg's kind. Owner Michael Visser says he decided to make fun use of some excess plum puree. He has no immediate plans to mass-produce the things. Too bad. My one-year-old adored the treat. Daddy didn't hate it, either.

Move Over, Ted's! There's a New Homemade Pop-Tart in Town was originally published by Washington City Paper on Aug. 22, 2011.
Copyright CITYP - Washington City Paper