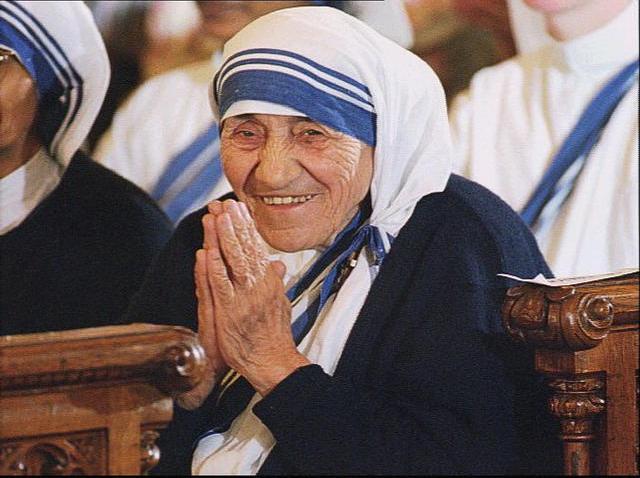 Her sandals were a significant part of her humble apparel. Along with her blue and white habit and ever-present rosary, they were the recognizable garb of Mother Teresa who, with and her Sisters of Charity, traveled the world to bring comfort to those in need.
This week, as part of the celebration of the 100th anniversary of Mother Teresa's birth, a special North American tour is in the region. A traveling exhibition of some of her relics has arrived in Baltimore.
Since her death in 1997, many of Mother Teresa's followers have continued to call for her elevation to sainthood. This week, even without the title of saint, the nun's relics are being given the treatment of the most holy departed clergy of the Christian faith.
Catholic churches in Baltimore are hosting the cherished relics of the famed Albanian nun's life, including her rosary, sandals, a lock of hair and even some of her blood.
Mother Teresa's Missionaries of Charity opened the Gift of Hope Hospice in East Baltimore in 1992 to treat and minister to AIDS patients in that city. The relics were on display in the chapel there on Wednesday. A tour of the area was to follow Thursdsay and Friday, the Baltimore Sun reported.
Mass will be celebrated at 8 a.m. Thursday at St. Wenceslaus, followed by a holy hour and veneration of relics until noon.

The relics are then to be transported to Our Lady of Pompei in Highlandtown, where a Mass will be celebrated in Spanish at 5:30 p.m., followed by a holy hour, rosary and veneration until 8:30 p.m.

Mass will be celebrated at 8 a.m. Friday at St. Leo in Little Italy, followed by a holy hour, rosary and veneration until 11 a.m.

Bishop Denis Madden will celebrate a Mass at 12:10 p.m. at the Baltimore Basilica, which Mother Teresa visited in May 1996.
Best known and honored for her work with the poor in Calcutta, India, Mother Teresa was "beatified" by Pope John Paul II in 2003. That is the first step toward sainthood in the Catholic Church.
Copyright AP - Associated Press