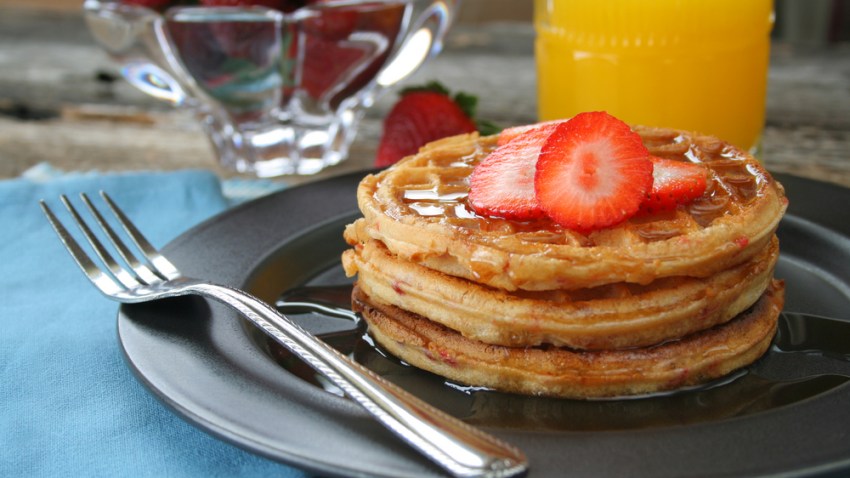 Mother's Day will soon be upon us ... and guess who's planning it? Hint: not mom.
It's kind of gross to think about, but mom is, after all, a woman and wants to feel special on her day. So, treat her to a special Mother's Day brunch that doesn't end with her washing the dishes.
Co Co. Sala: The Chocolate & Champagne brunch begins with a champagne cocktail and is followed by three courses: The first is a dish of warm chocolate fritters with caramel sauce and pecans, proceeded by your choice of French Toast smo'res, Hotcake Obsession, Breakfast Flatbread, Cheese Souffle, or a plate of traditional breakfast favorites. The dining experience ends with ... what else? More chocolate! Also, Co Co. promises a "special chocolate surprise for mom." The meal is available from 11 a.m. to 4 p.m. and costs $50 for adults and $30 for children.
Co Co. Sala
929 F St
NW Washington, D.C. 20004
301-576-5020
Taberna Alabarder: Taberna, designated "Best Spanish Resturaunt outside of Spain" by the Spanish government, opens its doors for Mother's Day to offer a meal that includes a complimentary glass of champagne and a rose for all mothers. Brunch is served from 11:30 a.m. to 5:30 p.m.
Taberna Alabarder
1776 I St
Washington, D.C. 20006
202-429-2200

Collonade: This lushly decorated Fairmont Hotel restaurant offers an unlimited flow of bubbly and a special buffet for Mother's Day. The buffet is offered from 10:30 a.m. to 3 p.m and costs $75 for adults and $37.50 for children.
The Fairmont Hotel
2401 M St
NW Washington, D.C. 20037
202-429-2300

M Street Bar & Grill: M Street's three-course Mother's Day Brunch comes with a complimentary mimosa, glass of champagne, or bloody mary and a basket of breakfast pastries. Brunch is served on May 10 from 10:30 a.m. to 4:30 p.m. and costs $29.95 for adults and $13.95 for children.
M St. Bar & Grill
2033 M. St
NW Washington, D.C. 20036
202-530-3600
La Bergerie: The family-owned French and Basque resturaunt carries on it's 30-year Mother's Day tradition, featuring a three-course meal, a glass of freshly squeezed OJ and a strolling violinist. Lunch is served from 11 a.m. to 3 p.m. and costs $40 per person.
La Bergerie
Crilley Warehouse, Second Floor
218 North Lee Street
Alexandria, Virginia 22314
703-683-1007
The Oval Room: Spring flavors will be showcased at this White House vicinity resturaunt on Mom's Day. Guests feast on a pre-fixe three-course meal that includes Foie Gras Terrine Brûlée with Meyer lemon and lavender; Crispy Salmon with anise, sugar snap peas and licorice dressing and Snake River Farm's Pork, green apple, red cabbage and crunchy hazelnuts. The dessert selection includes sauterne poached pear with dates, brioche and blue cheese-white chocolate ice cream and chocolate beet cake with blueberries and mascarpone ice cream. The meal is available from 11 a.m. to 3 p.m. and costs $50 per person.
The Oval Room
800 Conneticut Ave.
NW Washington, D.C. 20006
202-463-8700
For a more mellow mom, these low key brunch options are a perfect way to celebrate...
Market Salamander: Eat-in or take home a three-course brunch that includes a free box of cookies for mom. A complimentary glass of champagne is available to guests who choose to eat in. The meal costs $24.95 for adults and $15.95 for children under 11.
Market Salamander
100 West Washington St
Middlburg, Virginia 20118
540-687-3710
Dean & Deluca: Dean & Deluca offers freshly-baked Mother's Day pastries, in addition to their regular gourmet fare. Put together a picnic basket and enjoy your meal on the Georgetown waterfront.
Dean & Deluca
3276 M Street NW
Washington, DC 20007
202-342-2500
Thyme Out Market & Cafe: The market hosts its first "Mommy Cupcake Party," featuring a free cupcake decorating event and a free photo session with Labor of Love photography. Heat-and-Eat Mother's Day meals will also be available.
Thyme Out Market & Cafe
11401 Wodglen Dr.
Rockville, Maryland
202-221-2777