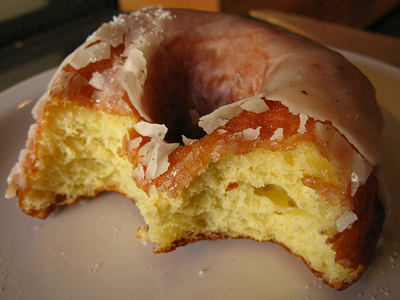 Chocolate frosted, Boston creme, jelly or good ol' plain glazed. So many doughnuts, so little time.
Well today, you have an excuse to try every kind of doughnut (or donut) your heart desires. It's National Doughnut Day. Really! Friday is a holiday that celebrates sugary fried dough.
The beginnings of National Doughnut Day were sweet, too, but perhaps more meaningful. It's said that when the Salvation Army created the holiday back in 1938, it was a tribute to women who served doughnuts to soldiers during World War I. Now it's your chance to go on a doughnut crawl, making stops at all the shops offering free doughnuts tomorrow. Don't forget to bring your own coffee or milk.
Two of the biggest names in the doughnut industry, Krispy Kreme and Dunkin' Donuts, are offering free doughnuts in honor of the holiday. Krispy Kreme is giving away hot, glazed, melt-in-your-mouth, eat-half-a-dozen-at-a-time doughnuts. No purchase necessary. At Dunkin' Donuts, you have to buy a drink to get a free donut (their spelling, not ours). And a number of local doughnut shops are participating, as well. So check your favorite shop to see if you get a freebie today.
Now go satisfy that sweet tooth with a sugary treat, guilt free.