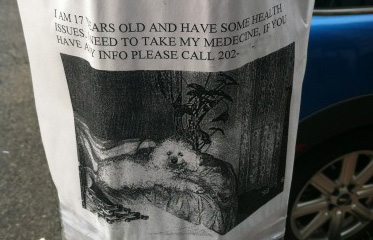 UPDATE: A 17-year-old poodle who disappeared outside the Whole Foods on P Street has been found, his owner tells us.
A homeless woman apparently took Snoopy, who had been tied up outside the store on Sunday. Around mid-day Wednesday, someone else noticed the woman with the dog on New York Avenue and called his owner.
Police were able to get the dog back.
---
Three years ago, a vizla tied up outside the P Street Whole Foods was dognapped, leading to a whole lot of blog chatter and a weeks-long effort to get Molly back.

(And yes, her human parents finally did wrestle her back. Metaphorically. Because literally would have been way too exciting.)

Now it's happened to another dog, right outside the same store, Prince of Petworth reports. Seventeen-year-old Snoopy vanished on Sunday, June 29 around 4 p.m.
In the wake of the disappearance, PETA -- generally known for its extreme activism and/or lettuce bikinis -- has issued a reasonable message, reminding pet owners not to leave their fur kids unattended:
Leaving animals outdoors unattended invites tragedy. Tied up alone, animals can easily be stolen, attacked by other animals, or subjected to random acts of cruelty. If spooked by a loud noise, an animal might also slip his or her collar in a panic and become lost or be hit by a car. A scared dog can bite children or adults -- even those with the best of intentions -- who approach the animal clumsily. [See more tips from PETA over at DCist.]
Snoopy's owner tells us she tied up her six-pound poodle outside the store "because he couldn't go in," and when she went back to get him, he was gone.
She is hopeful someone will find Snoopy, she said.
Was he dognapped? Did he escape? Either way, he has health problems and needs medication. If you find him, call his mom at [redacted].
---
Image courtesy of Prince of Petworth.