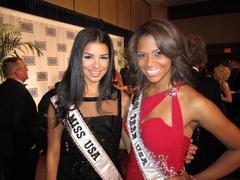 Rima Fakih, Miss USA 2010, and Kamie Crawford, Miss Teen USA 2010, really want to help the troops. Like, really. Bodily harm be damned.
Both women attended last night's annual USO awards gala at the Marriott Wardman Park. And they aren't satisfied by boosting troop morale stateside.
"I'd love to travel with the USO," Crawford told Niteside. "We'll go anywhere they'll let us. Anywhere ... even dangerous places. I love danger!"
"Just put us on a plane!" added Fakih. "It doesn't matter where. We can entertain -- and I'll cook for them!"
Are you listening, USO officials? This might be an offer you can't refuse.