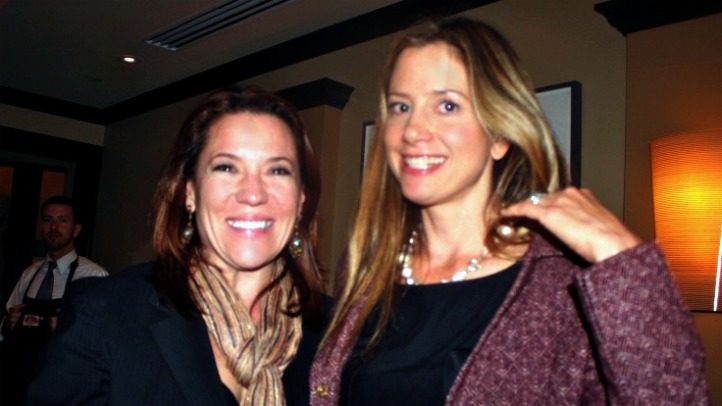 Nothing gets you to a restaurant faster than having dinner with Mira Sorvino.
The Academy Award winner made her way from Capitol Hill to RIS (2275 L St. N.W.) in time to attend a small private dinner in her honor before heading back to L.A.

Sorvino was joined by Libby Spears, director of "Playground," a film about the commercial sexual exploitation of American children. Both were in town for a briefing with Sens. Ron Wyden (D-Ore.) and John Cornyn (R-Texas), who are introducing a bill that will better protect children from domestic trafficking.

"Playground" actually started as an international piece, based in locations people often equate with sex trafficking. "We then followed a man that was arrested in Cambodia, but when we looked into his record, he had been molesting children in Oregon even before he left the country," said Spears."
The filmmakers then delved into sex trafficking involving American kids. The "Playground" website cites the Atlanta Journal-Constitution:
"Men fly into Atlanta, Georgia from all over the U.S. to have sex with children they have purchased online. In a small, affluent, local golf community, the elementary school superintendent and local bookstore clerk are arrested on the same day in a sting operation by law enforcement officials seeking sex predators of children via the Internet.
But why hasn't American sex trafficking received the attention it deserves? "I think there are two issues. People are not aware, yes, and I think it is similar to homelessness. That is what I equate it to," said Spears.
"You know, I lived in New York City for 10 years, where you step over homeless people and it becomes part of your environment," she said. "I think in some cities people see it but they don't identify it for what it truly is. They see it, they might recognize it... that kids are homeless or troubled youths, but they don't understand that children are being exploited and trafficked on the streets the same way they are in developing countries."

Sorvino gave an impassioned talk to a captive audience that included Sen. Wyden, Hunter Biden and Washington Life's publisher, Nancy Bagley.
"I'm proud to be supporting Libby in her work. It's very fearless; it's very dark," Sorvino said. "Few people would actually be able to handle the subject matter."
Sorvino recalled an incident during her own childhood when her sister ran away when she was mad at their mother -- only to be found hiding under a tree. But that was then and this is now, and things have changed.

"Today," she said, "how easily a child can be mislead. They are so vulnerable. With the delicacy of Internet imaging and porn on the web, all these unidentified kids being used in child pornography which is a form of child trafficking. If you can get their images out there while protecting whatever is being shown, then you could probably save a lot more of them. There is a whole lot that law enforcement can do on the Internet. It should be treated like terrorism." Amen.