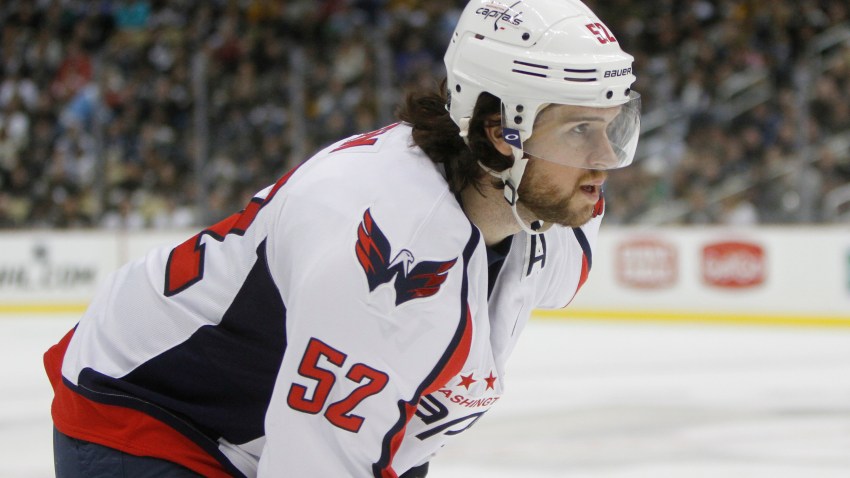 The Mike Green that we've seen in limited action over the last two-plus injury-plagued seasons is not the Mike Green to whom Capitals fans had grown accustomed.
No longer was Green one of the NHL's most dynamic defensemen, but a husk of his former self. The only distinguishable common thread between them was the No. 52 stitched across their backs.
Gone are the days when back-to-back Norris Trophy nominations and record-setting goal-scoring streaks were indicators of success for the 27-year-old. At this point, staying in the lineup for a few games in a row is considered a major accomplishment.
Between 2010 and 2012, Green appeared in only 81 regular-season games, nearly half of the Capitals' total number.
Besieged by a litany of injuries, from a twisted right ankle and concussion to a nagging groin problem -- which persisted this season and ultimately led to abdominal surgery last season -- it was fair to wonder if Green would ever return to the form that made him one of the NHL's brighest stars.
The Capitals, however, had faith last summer, signing Green to a three-year extension worth $18.25 million. Green proclaimed that there was a "100 percent" chance that he could and would reestablish himself as one of the league's best blueliners.
"It'll be next year," he said.
It may have taken over two-thirds of this year's shortened season and another stint on injured reserve, but it seems that Green is finally making good on his proclamation.
Since rejoining Washington's lineup March 21 after missing 10 consecutive games and 13 of 15, Green has slowly but surely shown flashes of his former, offensively potent, smooth-skating self, particularly in his last four games.
For the first time since Oct. 30-Nov. 7, 2010, Green has scored goals in four straight, all five of which have either lifted the Capitals into a tie, or broken one. (Coincidentally, he is the latest and last defenseman to score goals in four consecutive games.)
His first-period goal during Thursday's 2-1 shootout victory over the Islanders was a prime example.
With time running out in the opening frame, Green jumped off the bench and snuck into the offensive zone undetected. He corralled a loose puck, cut toward the net and fired a change-up past Islanders' goaltender Evgeni Nabokov to give the Capitals a 1-0 lead. It was his seventh even-strength goal of the season, tops among NHL defensemen.
"I think that's just because I feel good," he said of his recent play after Thursday's game. "I had a rough go the last few years and [I'm] finally healthy. So [I] feel great."
Coach Adam Oates recognized that it may take some time for Green to regain his timing, conditioning and reads after missing so much action, but he has been impressed with how quickly Green has adapted.
"I love the way he's moving up on the play," Oates said. "He's not trying to do too much with it. I would say the last two games, he's moved up at the correct times and been involved in the play at the correct time. Not trying to gamble. Obviously, the poise on the blue line's huge. The puck possession's huge, and playing very well."
It's just not Green's offensive production that has been buoying the Capitals recently.
Green eats a lot of minutes on the blue line, averaging a team-high 25:24 of ice time per game (he has also led the Capitals in ice time in four of their last five games).
Oates said Green's presence has a "trickle-down" effect on the rest of the defensive corps, giving them some much-needed rest.
"It's hard to replace top-quality players in your lineup, guys who demand a lot of minutes," Oates said. "And Mike's no exception."
Of course, Green's production over the last four games is a small sample size, but his impact on Washington's recent resurgence is too large to ignore.
"Mike always has been -- Mike's been a gamebreaker for us," forward Brooks Laich said Thursday. "He can change the game from the back end. He's got the tremendous ability, the skating ability to get up and back on the ice and then he's got a tremendous shot. The two goals he scored in Carolina were beautiful and tonight, he jumps in, joins the rush late and gets a big goal. He's been a huge, huge addition for us."
---
Follow Adam on Twitter @AdamVingan and e-mail your story ideas to adamvingan (at) gmail.com.