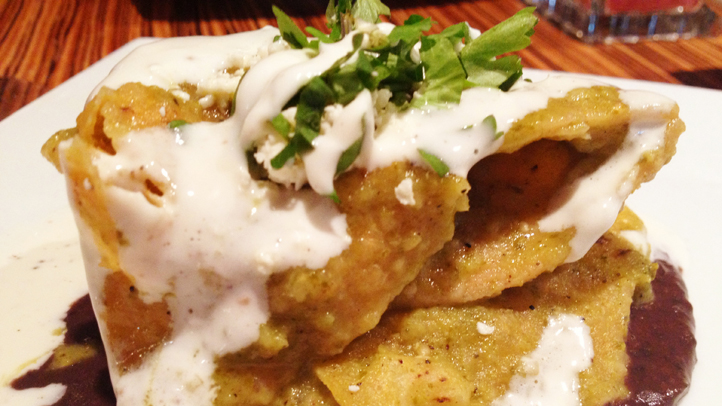 Ah, Sunday brunch. How lovely it is to be able to sit on the last day of the week and ease your transition into daytime after an, um, eventful Saturday night. Along the reinvigorated Logan Circle/U Street corridor, perhaps the best place to find brunch is Masa 14 (1825 14th St. NW).

Combining traditional brunch items with a Latin-infused flavor, Masa 14's brunch offers a plentiful array of dishes and alcoholic beverages.

I started my $35 brunch -- $20 for unlimited food; $15 for unlimited drinks -- with the Masa mimosa. Made with a mix of orange and passion fruit juice, this mimosa provided an extra splash of flavor which I really enjoyed (enough to have three).

Pacing these drinks was me literally ordering an entire section of the menu. Fried yucca. Wild mushroom flatbread. Empanadas. Chilaquiles. Bahn mi burger. Pho beef burger. Bacon-fried rice.

Not that it mattered. I could have ordered every plate on the brunch menu, four times, and so long as it was within the time window of the four-hour Masa 14 brunch, there are no limits. AWESOME!

Of all the items I ordered, my favorite was the bacon-fried rice. Served in a square bowl, with a fried egg on top, the rice was a fluffy, deep brown, mixed with basic vegetables such as corn, and cooked to perfection. I ordered two of these after my first order was quickly taken by my brunch companions.

Other than the bacon-fried rice, my other favorite was the "chilaquiles."

On a previous trip to Masa 14, I ordered both flatbreads and burgers, and I was really happy with both. I though the flatbreads were hot and doughy, the burgers moist and flavorful. I don't know whether the restaurant just had too much going on getting all of the food out, but I found the flatbread tough and the burgers even tougher this time around.

Still, I walked away incredibly full and pleased with my financial investment: $35 is a small price to pay for so much food and I think that's probably why Masa 14's brunch reservations are consistently difficult to obtain. Worth the wait, though!