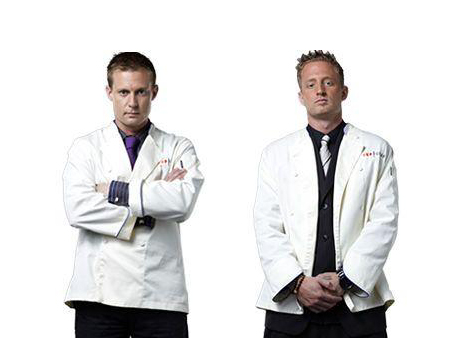 Finally, finally, the region has a "Top Chef" to call its own -- sort of. Although local fan fave Bryan Voltaggio wasn't named winner of season 6 of the Bravo cooking show, his own little brother took the crown (er, or big white hat).
The brothers were two of the three finalists who made it to last night's finale; Bryan Voltaggio is chef/co-owner of Volt (228 North Market St., Frederick, Md.), while his brother Michael is now chef at a Pasadena spot -- but he, too, once called Frederick home.
The swanky Volt hosted a viewing party that included Voltaggio family members rooting for Bryan, reports the Balitmore Sun:
Even family members who joined a dolled-up crowd of 300 at Volt restaurant to watch the last episode over fine cheeses, olives and wine said they were pulling for Bryan over his kid brother, Michael Voltaggio, who lives in L.A., and the third finalist, Kevin Gillespie of Atlanta.

"I think Michael's won enough," said Ruth Voltaggio, 88, the contestants' grandmother, referring to his haul in previous episodes. "He won $15,000 and he won the car."
In fact, Bryan had the least number of successes throughout the show. Rival Kevin Gillespie of Atlanta won five eliminations and four quickfires, more than either of the brothers.
D.C. native Carla Hall was a "Top Chef" finalist during the previous season.