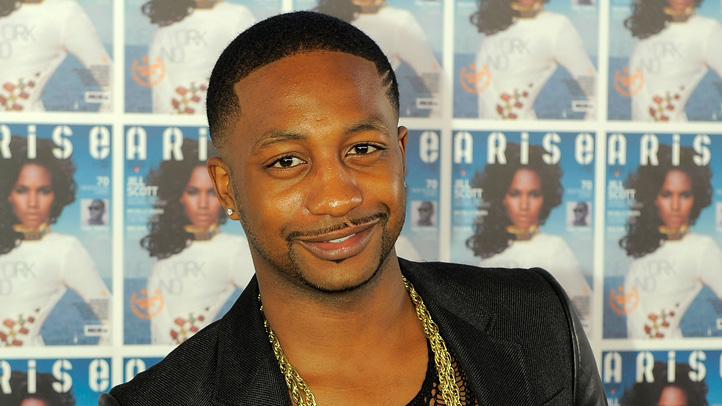 From Rihanna to Estelle to Jay-Z, just about every major celeb has been introduced to the creative work of fashion designer and stylist Marc Clark.
His line Marcc made its way on the fashion scene with its unique bow ties and glasses, which will.i.am wore every day on his Black Eyed Peas tour. Now with a new T-shirt line that can be found in Urban Outfitters -- along with a growing list of clients, including Roblé Ali of "Chef Roblé & Co." on Bravo -- Clark is the go-to man for creative accessories and styling.
We caught up with the Maryland native to discuss how he brought his creativity from Prince George's County to the Big Apple, his plans to expand the Marcc brand in the near future, and how his "aha" moment with Jay-Z was the highlight of his year.

---
How did you get into fashion? Was this something that you always saw yourself doing?
I started off in D.C. I'm from D.C. and P.G. County and I went to Friendly High School. In high school, a friend and I started making hand-painted T-shirts and... [people] started asking who did our shirts.
So we started a T-shirt company and had it for four years, and in that process I was in college and we didn't really have time for the line, so we parted and I later started my own line.
It started out with bow ties, which is one that Chef Roblé wore on Watch What Happens Live. My girl Estelle wore one, and people asked her where she got it from and it was a ripple effect from there. Rihanna wore one to her album release party [in 2009] and the next day I was featured on Teen Vogue.
What about styling?
Styling and fashion go hand-in-hand. I have a lot of friends who always asked, "Where did you buy that from?" or "Can we go shopping?" and it became a side thing.
I started off with small gigs like photo shoots here and there, and I started getting actual clients, like Ryan Leslie and Chef Roblé. It transitioned from being something small to something enormous, and I love it! I love expressing myself through clothes and creative artwork.
What would you say is your motivation and inspiration behind your brand?
I have seven brothers and sisters, and I wanted to set the bar high for them. I wanted to do something to make my family proud. My motivation is to have my brothers and sisters say, "Yo, my brother did it; I can do it."
I want them to know there is a whole world outside of their neighborhood. It's about taking risk and putting yourself out there. I feel like if I can touch at least one person with my story and creativity, then I'm complete.
Who's the average Marcc client?
I always say my customers are daring individuals. They are individuals who like to express themselves either through their accessories or the clothing on their back. They live graphic design, art and culture. We live in a microwave society and we live in a society where everyone wants to feel like a celebrity in some way, and everyone is in their own lane. I love that you can create your personal style along with my product.
We know Kendall Jenner is one of the models for your line. How did this relationship between Marcc and the Kardashians' little sis come about?
I really wanted to kind of push it with someone who had that look of my consumer. I was going through comp cards of different models and came across this one girl... I said, "Oh, she's very pretty" and I saw her name and was like, "Oh she's a Kardashian."
If you didn't know she was a Kardashian or Jenner you would automatically think she was a model; I found her by her presence. I think it was a wonderful [exchange] using her to help [promote] my first collection.
With the T-shirt company I had before Marcc, we tried to get in Urban Outfitters but it just never worked out. Once my [new] T-shirt collection launched, within three weeks I received an email from the store. It's all about timing; you can't rush things. It happens all on God's timing and I'm just blessed to have something that people like and gravitate toward.
Can you tell us what goes into the process of designing your bow ties and glasses? Are they handmade?
They are both handmade. The bowties are handmade and I sit down and make every single one. For me, quality is a huge factor. I use 100 percent cotton for my shirts. I handmake everything so that I can be assured that the product that my clients receive is up to par.
The glasses are produced in Japan and it takes 16 hours to produce one pair because it is 100 percent brass metal. It's a whole process behind designing them. They are priced at $800 because it's definitely a quality piece.
You have had some of the biggest celebrities wear your designs, from Rihanna to Jay-Z to Lady Gaga. How does it feel when you see celebrities -- or anyone, for that matter -- supporting your brand?
It's a surreal feeling. Honestly, it's weird. I can tell you that the weirdest situation was with Jay-Z. He wore the "Love and Life" T-shirt that you can find in Urban Outfitters. I discovered it when I was watching the "Watch the Throne" documentary and I didn't even realize it.
Something said, let me watch this again, so I watched it online and I'm like "Wow, I have that shirt." It still didn't hit me and then I replayed it and I'm like, "Wow, that is my shirt!"
Not only is he wearing my shirt in his documentary, but also on his birthday last year, Dec. 4. So a whole year went by, just about, and I didn't know until July of this year that he was wearing my T-shirts.
will.i.am wore my glasses every night for the Black Eyed Peas tour. To see something that I created is a great feeling. I just appreciate the fact that my work is being appreciated by not only celebrities but by my supporters.
So was that Jay-Z moment the highlight of your career?
The Jay-Z situation was the highlight of my career and highlight of 2011. I'm already operating on February 2012 and I always think in advance. I don't get too caught up in the hype because I'm so focused, but I do take the time to sit back and think, "Wow I was able to accomplish this stuff this year so the bar is set higher for next year."
What can people expect from the Marcc brand next year and in the future?
Expansion forreal! 2012 is going to be a very big year for Marcc. I have a lot of products coming out.
I don't want to say too much but I will say that it will be more of a lifestyle brand that is going to have a piece for everyone, whether you are going to the gym or prom. It will be an expansion of the brand and product.