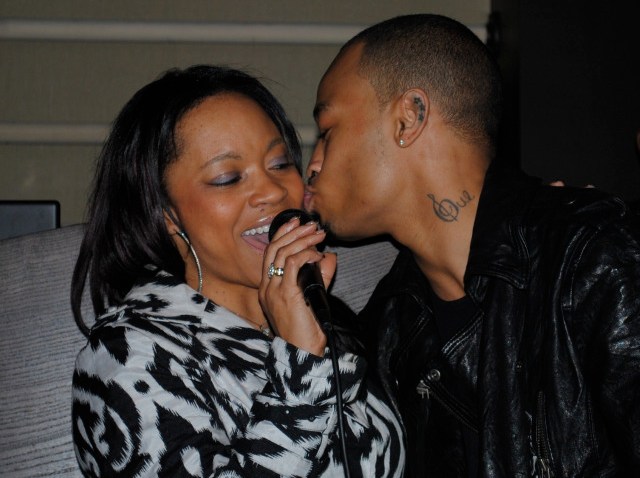 Known for being the hotheaded troublemaker on MTV's "Making the Band," Qwanell "Que" Mosley recently released a mixtape in the hopes of proving he's more than just a reality TV star.
The artist, who was kicked out of the band last year, hosted an intimate listening party for music industry insiders at Recess Lounge last night where radio personalities WKYS' DJ Quicksilva and Jeannie Jones walked through 11 tracks that showcased his vocal range.
"I want them to understand that I'm not just that crazy [one] from the reality show. Like, I can really sing," Que said last night. "I can really do this."
The drama from the breakup between he and his former Day 26 bandmates still resonates with Que even though he's stepping out on his own now. On his song "Well Overdue," Que sings. "Why they acting all innocent?.../It's funny how [they] try to get gangsta' on TV/Now what you gonna' do/Now that I have no commitment to you?"
Many local artists appear on the mixtape including R&B singer and label mate Lil Mo, Kingpen Slim, D.C. Don Juan and Que's longtime girlfriend Dawn Richard of the hip-hop trio Dirty Money. She lends her rarely heard freestyle skills to a song called "All Night."
Que and Dawn are also collaborating on an upcoming reality show that is currently being shopped to several major networks including MTV, BET, Oxygen and TV One.
"The show is going to be about love and it's ups and downs," Que said to the party. "Love ain't perfect but it is perfect. And I'm really in love right now."
Despite the love he has for Dawn, his leading lady was missing in action last night.
"Dawn didn't attend," Que explains. "She's in L.A. working on the Dirty Money album."
Qwanell "Que" Mosley's mixtape "The Que Files" released today, March 23.