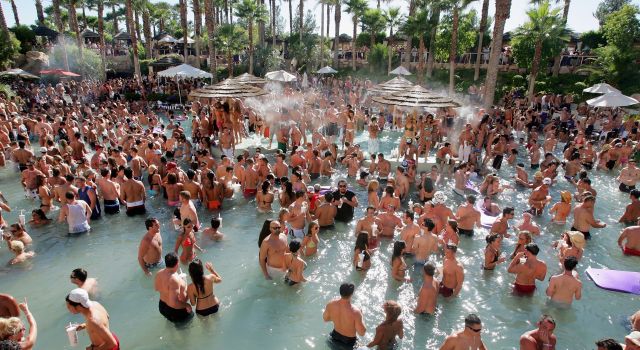 It's not even June, but we can already predict the theme of Summer 2009. We're good like that.
Ladies and gentlemen, DC wants to get you lifted. That's right, rooftop, babyyyy!
Already, dining terraces, pool parties, and -- weirdly enough -- even beehives are taking to the skies. What's next? A rooftop cupcake shop? No, bad idea, we never said that.
Anyway, here's this weekend's lineup:
This Saturday, Bright Young Things kicks off its weekly Summer Camp rooftop pool party at the Capitol Skyline Hotel (10 I St. NW). Pretend you're 10 again with camp games and crafts, physical challenges and inflatable pool toys. However, in lieu of those kitschy campfire songs, DJ duo Beautiful Swimmers will pump up the jams. noon-8 p.m.; all ages; $10 cover; $4 food specials; $5 or under drinks
Just can't get enough of the Capitol Skyline? Lucky you. There is ANOTHER pool party on Sunday. Same place, same time.
Starting this Sunday, "Top Chef" Spike Mendelsohn (also of Good Stuff Eatery) will also be throwing a weekly rooftop pool party at the Capitol Skyline Hotel. There are no camp activities scheduled for you kiddies, but Spike promises everyone a free burger. So channel your inner Paris Hilton and come lounge poolside because, well, that's hot. noon-6 p.m.; $10 cover; $5 or under drinks; free burger
But if your beach bod is still under construction, we also have a rooftop for you!
In order to bolster the depleted bee population, the Fairmont Hotel (2401 M St. NW) recently installed three beehives on its rooftop. The hives house 10,500 Italian bees, which will produce around 300 pounds of honey this year. But instead of frolicking with the bees on the rooftop (ow), we suggest you get grounded and try some of the honey-infused dishes at the hotel's first-floor restaurant, Juniper. Restaurant serves breakfast, lunch, and dinner 6:30 a.m.-10:30 p.m.