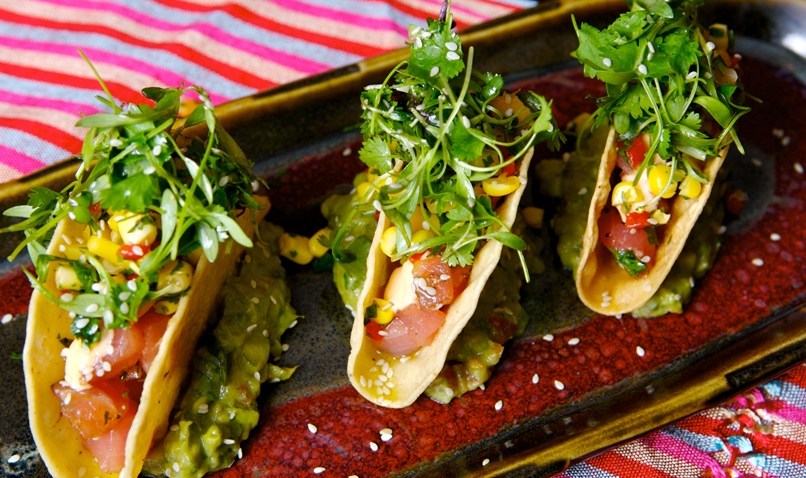 You've spent a long night in line armed with a thermos and hand warmers for the Black Friday sales. You've done your part to help the local economy by shopping boutiques on Small Business Saturday. And maybe you spend part of Cyber Monday scouring the web for the best deals. But just when you thought you could take a break, you have to get prepared for Taco Tuesday!
That's right, a day all about tacos. It's a growing tradition at Tonic Restaurant in Mt. Pleasant, and the main event is the annual Iron Taco Eating Championship this week, according to CultureMob.com. Taco lovers from all over our area have been competing every Tuesday at Tonic's taco contests, and finally someone will be crowned the "Ultimate Tonic Tuesday Iron Taco."
And this year, the competition has a little extra crunch. Peter Gartrell, a journalist for Platts, is competing in the finals and has teamed up with D.C. charity Bread for the City to raise money for their Holiday Helpings fundraiser. Gartrell has his own website, Tacos for Turkey's, where you can donate as little as $1 for every taco he eats.
"You see so many homeless people in Washington and there are so many kids that are on free and reduced lunches at schools. There just never seems to be a way to help," Gartrell said in an interview with CultureMob.com.
The Holiday Helpings program provides full holiday meals to needy families around our region. Just $29 can feed a family of four. As of Tuesday evening, supporters had pledged $59 per taco that Gartrell eats on Tuesday, which means two family meals per taco he takes down.
Gartrell first got hooked on the contest during the World Series. During his first contest he ate 15 beef tacos in five minutes. He'll try to repeat that success on Tuesday.
"My friends think I ate five [tacos] in the first minute during the qualifying round," Gartrell told CultureMob.com. "I'm hoping I can get off to a similar start next Tuesday."
Tonic is located at 3155 Mt. Pleasant Street NW. The Iron Taco Eating Championship will get under way at 8:30 p.m. on Tuesday.