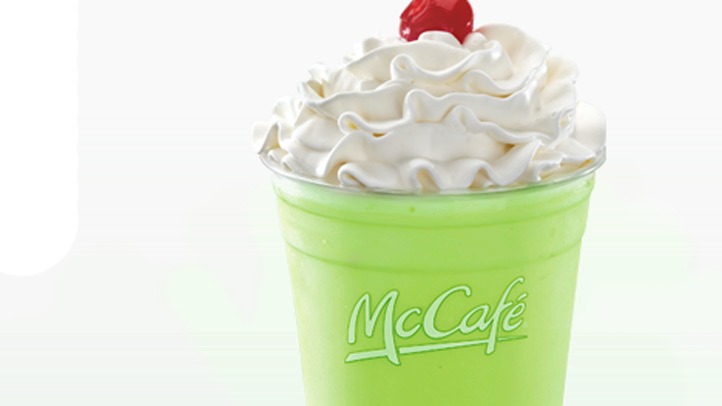 And now, in your partially liquified fast food news, the Shamrock Shake has reappeared at select locations of McDonald's.

The seasonal drink -- which may or may not taste like leprechauns; we're not sure -- has had a makeover since last year, ArlNow is reporting:
"All McDonald's shakes now come in a clear McCafé cup with whipped cream and a cherry on top. And rather than a flat lime green color, the shake now appears to be a twisted green and white."
The minty beverage was offered seasonally from 1970 until the 1990s, disappearing from our national consciousness until its reintroduction in 2008. Be very, very glad about the new cup, though, because just consider the design they were forcing on poor unsuspecting children in the '80s:
Oh! And not to be outdone, Wendy's has brought back its keytag campaign for 2011. Buy a keytag for $1 and get free Frosty Jrs. (Frostys Jr.?) all year. Granted, the Frosty Jr. is approximately the size of a shot glass, but considering you're going to be having them constantly all year long, that's probably a good thing.
---
Check Out the Scene: Keep up with what's happening in the D.C. area anytime, anywhere. Follow us on Twitter and Facebook. Sign up for our e-mail newsletters. Don't forget our iPhone app!