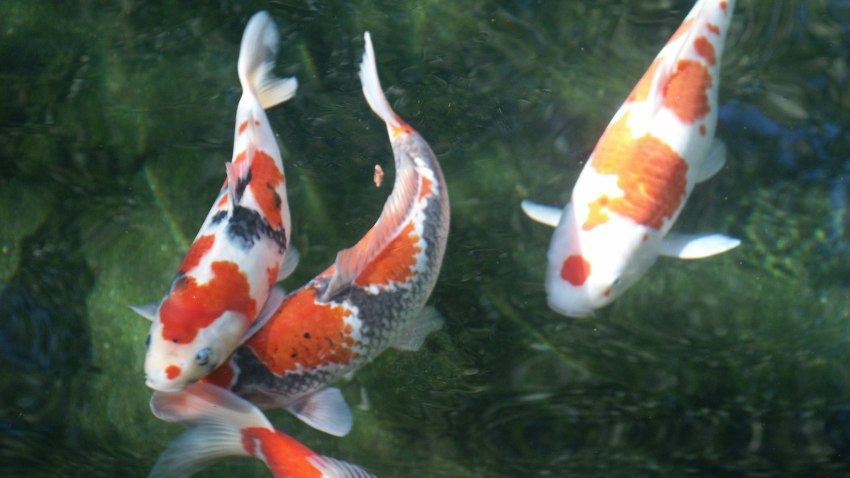 The U.S. National Arboretum had a unique task: dividing and categorizing the hundreds of colorful koi, also known as Japanese carp, thriving in the pool.
The koi were so happy there that they multiplied and created an overcrowding situation. So workers had a "koi round-up."
They did their best to separate the koi according to size, color and personality. It seems koi have their own personalities like people. Some are laid back and others are feisty. The Japanese lore of the koi is that they swim upstream to the final waterfall. There they vault into the mists and become water dragons.
You can buy your own water dragon Saturday at the National Arboretum's "Not Your Average Yard Sale," as their Web site calls it. One definitely not for sale is Big Mama. At 15 she is the oldest koi. She's also the longest. She has her own fans.
Also on sale will be eclectic botanical art and books and odds and ends from the Arboretum's storage rooms. You'll find some high quality items and some fun stuff. The sale runs from 10 a.m. to 3 p.m., with a sneak preview of the colorful koi at 8 a.m.
If you haven't been to the National Arboretum, you are in for quite a surprise. It's one of the best kept secrets in Washington. Located in Northeast, it fabulously sprawls over 446 acres. There is something for everyone including one of the world's finest bonsai collections and lots of gardens and botanical spaces to explore. Admission is free. To tantilize you more, go to their Web site which lays out the case very well that it is quite a unique place to explore.