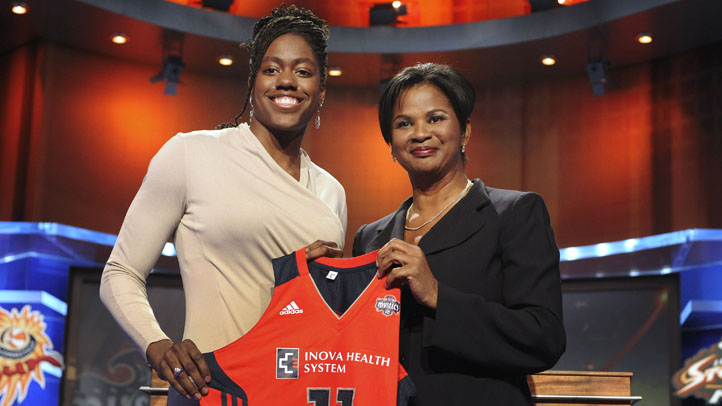 The Mystics selected Victoria Dunlap from Kentucky with their first-round pick in Monday's WNBA draft.
As it turns out, D.C. knows a little something about first rounders from Kentucky.

Fellow Wildcat John Wall was the Wizards first overall last year, and he had some insight into what the Mystics can expect from Dunlap.

"She played undersized for her position in college, but she's so athletic," Wall told us. "She can rebound, block shots. She's always going to play hard for you."

At forward, the 6'1" Dunlap averaged 13.8 points and 8.3 rebounds per game over her highly decorated time with Kentucky. This past season alone saw her earning Player of the Year, Defensive Player of the Year and Associated Press Honors. Her bio page at Kentucky lists more awards and honors than your average four-star general.

Having her in D.C. is something Mystics coach and general manager Trudi Lacey is pretty psyched about.

"She's been very high on my board," she told the Washington Times. "She's a great athlete; she's agile, has versatility, has a huge heart, is a great defender and loves to rebound – all the things I like in a player, so we're excited."

We're excited too.

Still, coming to the pros can be a big adjustment for a college player. To that, Wall had some words of wisdom for Dunlap.

"Just work hard," he said. "I know she's going to do that. She's got to get used to traveling a lot, staying overnight and playing so many games. That will probably be the toughest thing for her."
The Mystics home opener is June 11, with tickets available through the team website. No word on whether she'll come out doing the dougie, but it looks like that might run in the Wildcat family.


Questions, comments or tips? Email Sarah at sarahskogod@gmail.com. You can also follow her on Twitter (@sarahschorno).