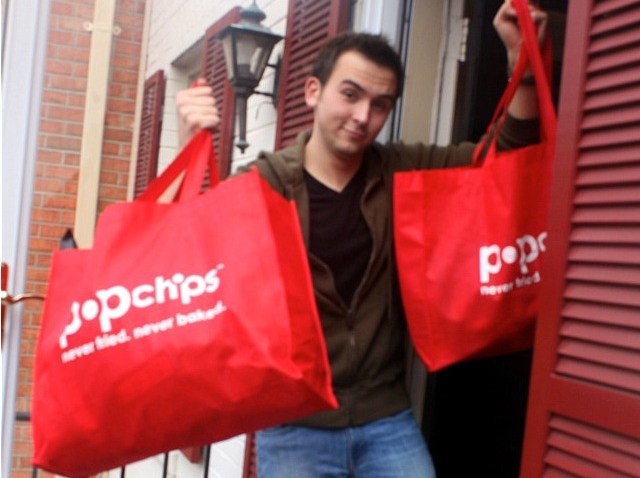 Do you have what it takes to be the VP of Pop Culture for Popchips? Tommy McFly thinks he does. His bio reads, "Covers Hollywood & Politics. Plucky. Owns a suit. Never Tired. Never Fake. Always Popped!"

94.7 Fresh FM's psychedelic afternoon DJ is indeed a contestant for Vice President of Pop Culture for Popchips and he wants to be perfectly clear: If he doesn't win, you may not have him to kick around anymore.

Popchips is running a national ad campaign spearheaded by actor Ashton Kutcher to promote their product, which is just that: chips that are popped. We're not sure if health-conscious Michelle Obama would approve, but they lay claim to the following: "We don't fry it (unhealthy). We don't bake it (undelicious). We take wholesome potatoes, add a little heat and pressure, and pop! It's a chip."
We'll take their word for it.

Here's the game plan: Candidates submit a short video showing their ability to create unique digital content on Facebook. (You can see McFly's video here.)
Fans vote for the best candidate and Kutcher weighs in on the choice along with co-sponsor Monster.com, the popular job site. Popchips CEO Keith Belling adds: "One caveat -- must love snacking."

For the lucky winner, this is not just a playdate with Kuchner. Being Ashton's promotional sidekick for a year comes with a $50,000 payday, on-location reporting ops and wherever else the yellow brick road may take you.
Should he win, McFly promises not to take over the vice president's mansion from Joe Biden, nor will he be leaving D.C. Instead, you'll be invited to a huge inauguration party, because bribery will get him everywhere.
Speaking of -- McFly and co-host Chris Brown tossed a Popchips Sunday bribe brunch that lasted through the evening where guests dined on, well, Popchips.
"I'm walking briskly through columns of marble, because that's what we do in Washington when we have a campaign ad," McFly announces self-referentially in his video.
How could you not vote for that, really?