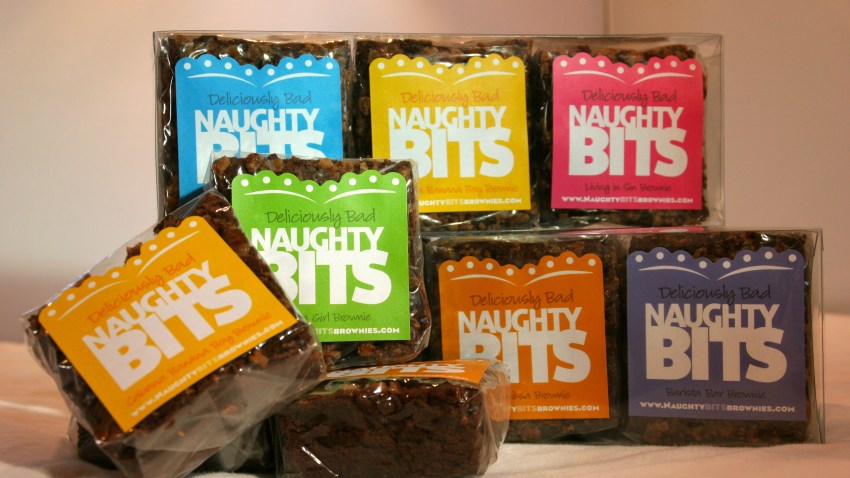 This new local company may sound taboo, but owner Leigh Lambert is quickly proving that what's "naughty" is also profitable -- in the brownie business.
Lambert originally shared her brownie recipe with the Washington Post in 2007 while she was working as an editorial assistant. The "Man Catcher," a term coined by one of Lambert's friends, was a hit with readers. But it wasn't until she left the Post on maternity leave that she was inspired to take her idea to the next level.
Lambert, a former pastry chef, got in touch with Capital City Cheesecake (7071 Carroll Ave., Takoma Park, Md.), a local cafe that she had blogged about in the past. She describes casually walking into the shop and telling the owners, "It's great you've got cheesecakes, but you need brownies," and soon began baking in the Capital City kitchens to sell her creations in their shop.
They encouraged her to start her own company, and she opened Batch by Batch Bakery a year and a half ago, distributing her treats (now including gems like "Gentlemen Prefer Blondies") in other local stores like Society Fair (277 S. Washington St., Alexandria, Va.) and Zen Tera Tea (4710 Bethesda Ave., Bethesda, Md.).
But did you notice something about the website? Very Martha Stewart-ish for someone selling naughty-named brownies. And that's exactly the feedback that Lambert recieved from another friend, who told her the image she was presenting didn't match the product she was selling. She decided to give the website more "va va voom," with a goal to bring an "attitude and sexiness to brownies" that no one had seen before.
And people have taken notice. Recently, Lambert was approached to work with Distinctive Assets, the marketing firm charged with getting the "Everybody Wins at the Oscars" swag bags to the nominees of the 2012 Academy Awards.
"That's the dream you have when you're a little girl," says Lambert, of the opportunity to have stars like George Clooney and Brad Pitt consuming her product. The Starlet was created specifically for the gift bags (though you can purchase it online for a limited time). "Playing with the idea of glam and celebrity," Lambert created a brownie covered in edible gold dust and chocolate-covered pop rocks to imitate the fizz of champagne on Oscar night.
"They start to become characters in my head," said Lambert, of the brownies she sells on her her newest website, Naughty Bits Brownies. "Some of them are driven by the name," she said, and others by the flavor. Lambert's husband came up with the name for the "Shiksa" brownie, which features maple-smoked bacon and toffee bits, and the tag line, "Don't try bringing this babe home to meet Bubbie" (a nod to Lambert's Jewish heritage). Other "delights" include "Geisha Girl" (with crystallized ginger, wasabi and sesame snack bits) and "Cabana Banana Boy" (with toasted coconut, dried bananas and macadamia nuts).
Lambert, who grew up in D.C. and now lives in Silver Spring, said she "loves working with local businesses," but sees herself "taking over the world batch by batch."
With more brownies in the works (stay tuned for the "Junk in the Trunk") and other projects to help grow her lifestyle brand, Lambert says she still cannot believe how far she has come. It is however, fitting. With Naughty Bits Brownies, she says,"You remember not just the brownie, but the entire experience."