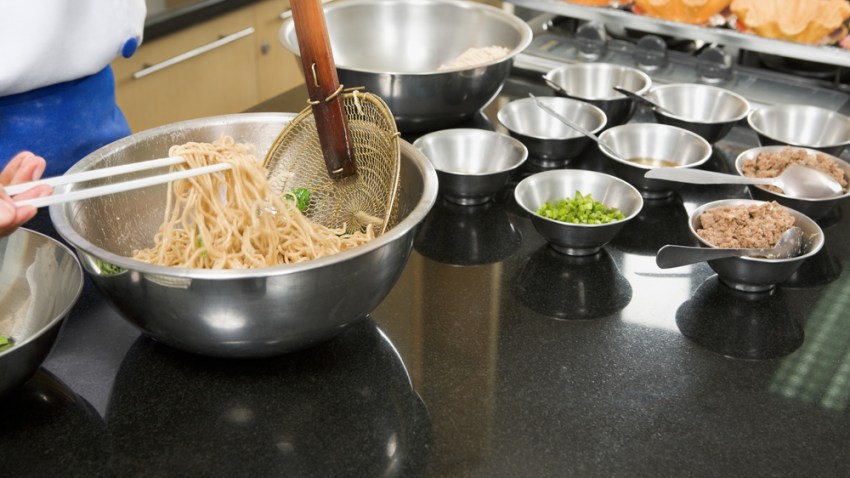 Gamely adding to his already busy schedule, Executive Chef Anthony Lombardo continues the 1789 Restaurant's tradition of hosting a monthly cooking class.

Covering basics such as making pasta from its floury, egg based origins, the class For those who manage to receive the email notice signing up, the price of the class -- $100 -- isn't necessarily the deterrent. Rather, it's just the sheer lack of space to accommodate the eager Food Network-inspired newbie chefs incubating in D.C.
I recently ventured into the kitchen for one of their a cooking classes, and it's not as glamorous or expansive as TV shows might have you think. The kitchen could, maybe, squeeze three California king beds end-to-end, and when the stoves are on, the heat is stilfing.

"We have 12 people back here every night," not including waitstaff, Lombardo said.

How the restaurant (1226 36th St. NW) manages to not turn into an emergency room with the hustle-and-bustle created when preparing elegant cuisine for 260 reservations on a Saturday night is beyond my mental capacity.

Once Anthony began the class, my mind quickly turned to absorbing as much culinary education I could obtain from this Culinary Institute of America-trained chef. Over the course of two and a half hours, I was given pointers on how to weld a knife, cut vegetables, make tomato sauce, create pasta from scratch, and even how to create the stuffing for ravioli and tortellini.

I would have paid $100 just for the time spent in the kitchen, but 1789 adds to the value by providing a three-course meal at the end of class.

A first course consisted of a light vinaigrette salad, followed by an entree of pasta (which the class made) buttressed by two juicy chicken legs -- did I make this in class and not remember? -- to enliven a pasta-heavy morning, and finished with a fabulous dessert: lime cheesecake, laid in a thick mango sauce, with passion fruit ice cream. And naturally, it was embellished by a sliver of dried pineapple flavored with red pepper. Of course.

The visually arresting and flavorful dessert topped an extraordinary morning at 1789.

Dollar-for-dollar, the class is well worth the money. Typically, the price of a three-course 1789 meal, with wine, goes for that same $100, but here, in addition to the meal, you receive a cooking tutorial, plus bottomless coffee and coffee cake in the morning, and bottomless wine with lunch... plus your own 1789 apron.
---
Check Out the Scene: Keep up with what's happening in the D.C. area anytime, anywhere. Follow us on Twitter and Facebook. Sign up for our e-mail newsletters.