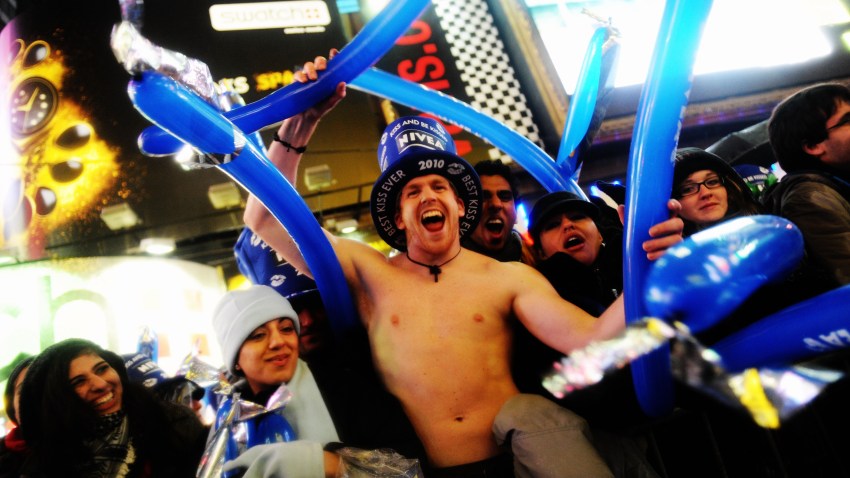 Is there anyone who attended the New Year's Eve party at the National Building Museum who actually had a good time?
Anyone? Bueller?
Attendees of the NYE bash thrown by Fritz Brogan (Gin & Tonic) and Reed Landry (Late Night Shots) are fuming on any number of online outlets, like here, here, here and here. Oh, and here. And the Facebook group is here.
One attendee, Jessa Harding, told us, "I expected a lovely evening. What I got was comparable to torture." She continues:
We were forced to wait in line for 45 minutes in the freezing rain because they only had a few of the entrance open (according to one of the door guys, the promoters did this to save money on staff), and then had to wait in line for well over an hour for the following: coat checks, drinks, and the restrooms. What was advertised? 35 bars, plenty of restrooms, and a champagne toast at midnight. We did not get any of those, nor did we even get a countdown! Thousands of people were ripped off by Reed Landry and Fritz Brogan and we want justice.
We're not late coming across this rage so much as that we've taken the time to sit back on our heels and marvel over the righteous indignation of, well, pretty much everyone. It's like the purple ticketholders from the Obama inauguration decided to meet up nearly a year later and relive the highlights (OK, or lowlights).
Speaking of lowlights -- disgruntled commenters claim the NYE party ran out of booze around 10:30/11 p.m., pretty much everyone's coats were stolen (did just, like, one guy taken a thousand coats or what?) and some of the most charming guests employed the fountain as a potty since the real potties had an hour-long line. We're praying that last one is an exaggeration or we may never bring ourselves to visit the National Building Museum again.
Says one commenter on WashingtonPost.com's Going Out Guide:
I saw one girl bleeding from the head after getting pushed down trying to get her coat in the rush. Angry partygoers were throwing potted plants into fountains, p---ng where they pleased and opening bottletops off of the marble railing. One bouncer told me this was the the biggest disaster he witnessed in his 12 years in the industry.
Then there's this one...
Two tickets: $200, Number of Drinks: 0, Leaving at 11:00 realizing what a scam this event was and enjoying New Years at another party: Priceless.
And this one...
So glad we each paid far upwards of $100 to stand outside in the freezing rain for an hour, not have our tickets or IDs checked at the "door," 1+ hour lines for unknown-brand alcohol, NO food, unregulated VIP access, have the 35 (or 8, whichever) "bars" run out of alcohol at 10pm, have our evening coats stolen and trampled, no champagne toast at midnight, and not be allowed into the "after party" we were promised.
However, we hear the band played a snazzy rendition of an Ace of Base song.
We Love D.C. has the text of the planners' apology letter, which includes an offer of $50 gift cards to George or Gin & Tonic. "Being that we are peers of the majority of our attendees, it is our utmost priority to produce top quality events. We are aware of this event's shortcomings, and are taking steps to address them with our caterers, our staff and, ultimately, ourselves since the responsibility lies on our shoulders," the letter reads in part.
Plus, the Building Museum will be open on Monday so people can try to get their coats back. Reed Landry has taken several questions from us and we'll post a follow-up when he responds with answers.
Happy 2010, everyone!