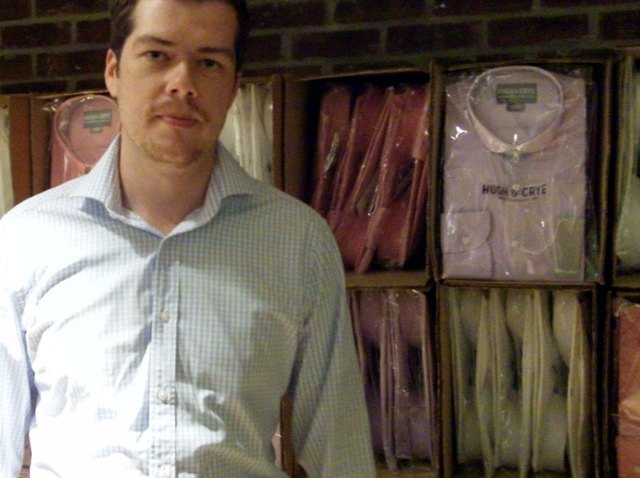 Pranav Vora was part of a club many men unwillingly find themselves in: He had trouble finding men's dress shirts that fit well. Even with the "slim fit" lines that some brands offer, he still found himself faced with the dreaded "muffin-top" look that a shirt with too much fabric gives.
His initial plight eventually landed him in Georgetown's Cady's Alley Saturday night -- introducing special slim-fit, custom-made men's dress shirts made by his new company, Hugh & Crye, at the their launch party, For Shirts and Giggles.
Stylish local men flipped through racks of hung-up dress shirts in the partially lit downstairs area, while others sipped on Peroni beers and snacked on catering from Coppi's Organic Restaurant. Under the fluorescent lights upstairs, women in cocktail dresses thumbed through shelves of neatly packaged and folded Hugh & Crye shirts -- adding a splash of color to the otherwise sterile white walls of the usually empty warehouse.
The hardwood floors gently vibrated as performance group SpeakeasyDC fed the brand's namesake with their own funny stories of times they had to "hue and cry," or stand up for wrong.
Vora, looking pleased with the turnout, monitored the floor prepared to answer any questions, wearing one of his own Hugh & Crye shirts in a pink shade.
Way back when, Vora didn't have a "light-bulb" epiphany but rather began pondering the concept of body types when he first became fed up with his shirt dilemma. "I wondered if there was a better way to size ready-made shirts," he said. "Small/medium/large just seemed too ambiguous. And collar/sleeve approaches for formal shirts tell you nothing about the body of the shirt."

He noticed that while everyone is unique, he could see similarities across his friends. He gathered measurements of about 300 guys he knew, and found that 85 percent of them fit into one of six sizes, which were essentially based on the height and width of the torso -- something normal men's dress shirts don't even take into account.
Vora's findings led to his partnership with Ernest Chrappah, a D.C government program manager by day, and thus the creation of Huge & Crye, a D.C.-based shirt-making company specializing in slim-fitting dress shirts.
The odd name of the company, Hugh & Crye, naturally sparks curiosity. Hugh & Crye is a play on the term "hue and cry." In medieval England, civilians who were witness to a crime were bound by common law to exercise hue and cry, a protest of sorts, to apprehend the criminal and bring him to justice.
Vora and Chrappah see it as "seeing something wrong in the world, and doing something about it." In their case, launching a crusade against excess shirt fabric -- driving it away from the waist and the consequentially unflattering "muffin-top" look, as well as nipping and tucking extra material from the armpit of sleeves, eliminating the "webby look."
With a name like Hugh & Crye, one might assume they are trying to compete with other established men's designers like Dolce & Gabbana. But the shirt crusaders decided to use the alternate spelling of "hue and cry" to actually mock the European shirt-making establishment.
"We come from diverse backgrounds and humble beginnings, and our shirts are priced much more reasonably than their European counterparts, without sacrificing quality," Vora said. "Our fabrics are all two-ply, 100 percent Egyptian cotton."
Translation: very soft.
The pricing is based on the cost of making the shirts, which are created with Italian fabric in India and designed in the District.
And the designs are very much D.C. and even more so Georgetown, synonymous with retail and fashion in the District.
"Our designs are all modern classics," Vora said. "Hardly a bore, but just a little touch of character."
With unique names like "33rd and M" -- named after the cross streets of their pop-up retail store in Georgetown -- the Hugh & Crye shirt is meant to portray a certain message. The 33rd and M, for example, is a shirt with broad banker stripes that you could easily see on a Gordon Gekko type. But the small button collar and other casual details could communicate a very specific personality: someone that works hard, but is humble.
So why choose Hugh & Crye over something with a well-established reputation like Brooks Brothers, for example?
"A Hugh & Crye shirt will fit a guy better than anything else he owns. Period," Vora said confidently.
The shirts are currently only available online, and at the H Street pop-up shop The Temporium (1300 H St. N.E.) through Aug. 15.
---
Let's Go Around Town: Keep up with what's happening in the D.C. area anytime, anywhere. Follow us on Twitter and Facebook. Sign up for our e-mail newsletters and find out What You're Doing Tonight with texts delivered right to your mobile phone -- just text DCTONIGHT to 622339 to sign up. (Message and data rates may apply.) Don't forget our iPhone app!