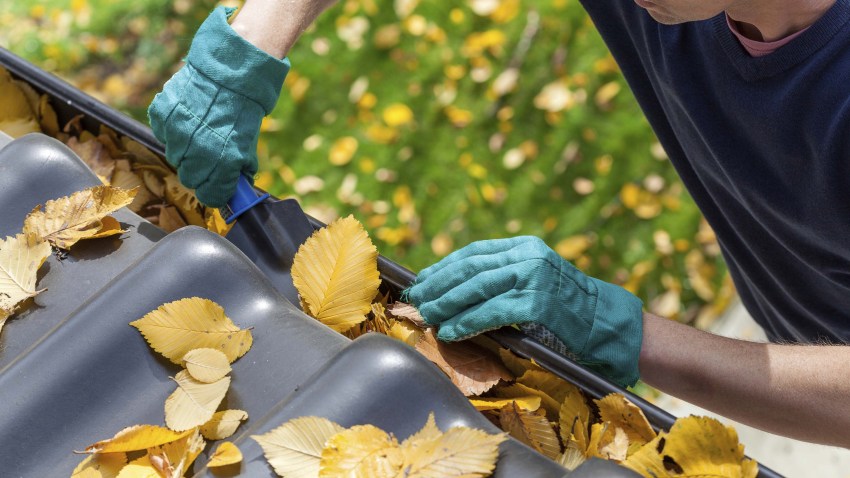 This article is sponsored by Michael & Son, the leading full-service plumbing, electrical, HVAC and remodeling company serving the Washington D.C. area for over 30 years. Learn more about Michael & Son at Michaelandson.com.

Everyone loves a colorful foliage. But once those leaves come down, they create lots of messy chores around your property. Aside from all the raking and bagging required to keep your landscaping looking lovely, the real headache is making sure leaves don't clog your home's gutters.

Keeping gutters and downspouts free of debris is essential to maintaining a strong roof foundation. Allow them to clog and your roof will soon be leaking or, worse yet, buckling under the weight of snow this winter.

In order to make sure you're maintaining your gutters properly, let's review the best upkeep practices.

Keep Them Clean
Sounds like a no brainer, right? However, there are several steps you'll want to follow, some not as obvious as others. First, use a gloved hand to remove all leaves, sticks and other debris from your gutters. Second, check for granules which fall from the roof shingles and remove them. Over time, these granules mix with water to create a gooey substance that is very stubborn to clean. Finally, use a hose to make sure there are no areas where water can pool. If you do witness pooling, make sure your gutters are aligned properly and sloping down at a slight angle.

Go With The Right Gutter
There are a few different choices when it comes to gutters, each with its own pros and cons. Different materials can affect cost, durability and function. Let's review what's available:
Vinyl Gutters: Besides being durable and easy to install, vinyl gutters are the most economical choice, generally running around $3 to $5 a foot. The downside? They can become brittle in extremely cold temperatures and sometimes crack.
Steel Gutters: Slightly more expensive than their vinyl counterpart, steel gutters are very sturdy and can support a good amount of weight. Unfortunately, they are difficult to install and are also prone to rusting.
Aluminum Gutters: Light and easy to install, aluminum gutters are a DIY handyman's dream. But they also dent easily, making them susceptible to wind and falling debris. At $6 to $10 a foot, you might want to think twice before installing these fragile gutters.
Copper Gutters: The most attractive of the bunch, copper gutters can go for as much as $20 a foot.

Remember, not maintaining your gutters can lead to roof damage, leaks in the home and premature foundation wear. The most important factor is not what kind of gutters you choose but how well you maintain them. For more helpful home upkeep tips, visit Michaelandson.com.