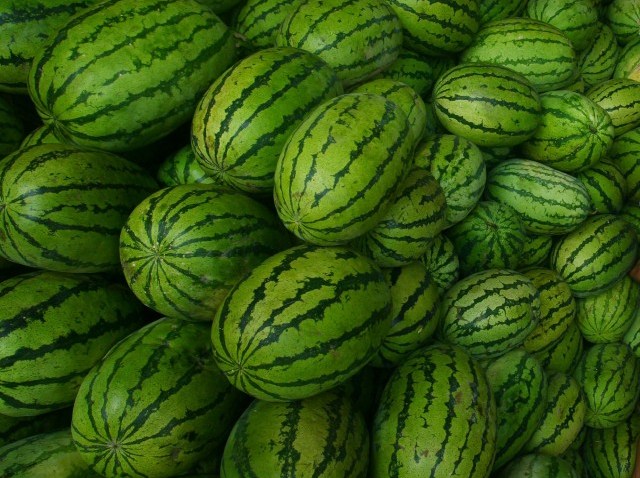 Clayton Miller's grilled watermelon salad serves four.
Watermelon Marinate
4 pcs Red Seedless Watermelon (cut into 4"x 2" x 1/2" rectangles)
4 pcs Yellow Seedless Watermelon (cut into 4"x 2" x 1/2" rectangles)
1/2 C Olive Oil 2 Limes (cut in half and juiced)
1 Sprig Basil
1 Sprig Tarragon
1 Sprig Cilantro
1/2 T Salt
3 Turns of fresh Cracked Pepper from a Pepper mill
Combine oil, limes, herbs, salt and pepper. Pour over watermelon and allow to stand at room temperature for at least one hour but no more than two hours.
Grilling Watermelon
3 Limes (cut in half)
2T Chili Flakes
As Needed Olive Oil
To Taste Salt
Drain watermelon from marinate. Place watermelon onto hot part of grill. After 30 to 45 seconds, flip watermelon onto other side. After additional 30 to 45 seconds remove from grill.
Drizzle olive oil and squeeze limes over melon. Sprinkle with salt and chili flakes. (Add as much or as little of the flakes as you like.)
*Note: You want to move quickly and use a hot part of the grill so that the Melon gets a little char but still maintains it's natural crunchy texture, just warmed through.
Salad Garnishes
1C Queso Fresco (can sub Ricotta Cheese)
2C Watercress (can sub Arugala)
1/2 C Teriyaki (thickened with Cornstarch)
1/2 C Toasted Pumpkin Seeds
As needed Olive Oil
Plating and to finish
Stack one of each colored watermelon on top of each other a on a plate. Drizzle with teriyaki. Sprinkle queso fresco and pumpkin seeds.
Dress watercress with olive and salt and place on top of melons.