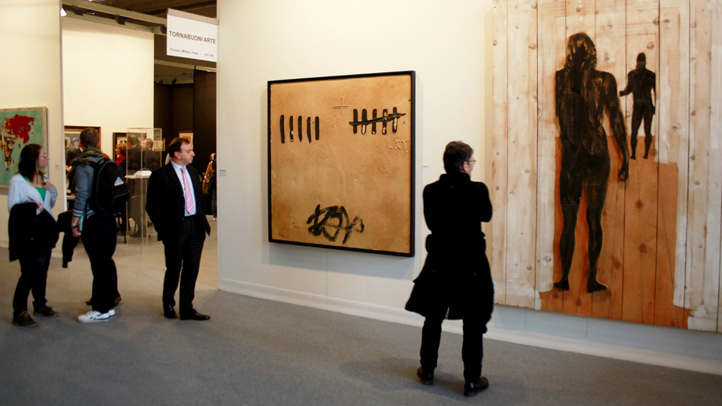 Not every urban tour means you'll be drinking 13 beers.

No, really.
ARTventures on H Street is tonight, Thursday, Feb. 24, when a dozen galleries and art spaces will stay open late and punch special "passports" from 5:30 to 8 p.m.

For every punch received, you'll score an extra two-percent discount tonight from 7 to 9:30 p.m. at participating restaurants and bars in the neighborhood. You can grab a passport at any of the art walk stops. You can start anywhere you want.

PARTICIPATING GALLERIES:

Adobe Design Center & Showroom (654 H St. N.E.)
Exhibit: Where Art Meets Function
Artists: Various

Atlas Performing Arts Center (1333 H St. N.E.)
Exhibit: Ten Miles Square Photography Exhibit
Artists: Various

City Gallery (804 H St. N.E.)
Exhibit: Color and Shape
Artists: Nancy Donnelly, Jill Finsen

Conner Contemporary Art (1358 Florida Ave. N.E.)
Exhibit I: Windowboxing
Artist: Cordy Ryman
Exhibit II: High Pressure System
Artist: Brandon Morse

Evolve Urban Arts Project (1375 Maryland Ave. N.E.)
Exhibit: Flights of Fancy: Elements of Surrealism
Artists: Various

G Fine Art Gallery (1350 Florida Ave. N.E.)
Exhibit: The Adjacent Possible
Artist: Linn Meyers

Gallery OonH (1354 H St. N.E.)
Exhibit: Facing H Street
Artists: Various

Industry Gallery (1358 Florida Ave. N.E., Suite 200)
Exhibit: Fossilized
Artist: Jens Praet

Jorge Velazquez (1015 H St. N.E., 2nd floor)
Exhibit: My Vision of Art
Artist: Jorge Velazquez

Metro Mutts (508 H St. N.E.)
Exhibit: Pet Life
Artists: Bev Hollis, Jenna Isaacson

Senate Square (225 I St. N.E.; entrance on 3rd St. N.E. between H and I)
Exhibit: Nature
Artist: Martha Huizenga
Exhibit II: Guatemalan Light & Color
Artist: Marilyn Christiano

SOVA Espresso & Wine (1359 H St. N.E.)
Exhibit: Untitled Photography Exhibit
Artists: Students enrolled in the Critical Exposure program.

PARTICIPATING BARS/RESTOS/CAFES:
---
Let's Go Around Town: Keep up with what's happening in the D.C. area anytime, anywhere. Follow us on Twitter and Facebook. Sign up for our e-mail newsletters and find out What You're Doing Tonight with texts delivered right to your mobile phone -- just text DCTONIGHT to 622339 to sign up. (Message and data rates may apply.) Don't forget our iPhone app!