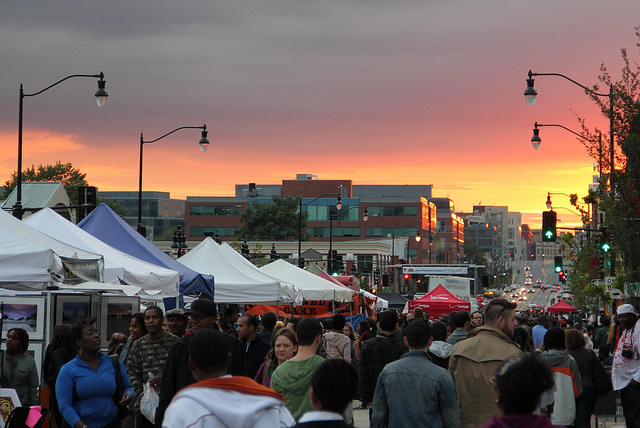 As summer's outdoor movie festivals are, one by one, drawing to a close, two of D.C.'s most popular neighborhood festivals have set their dates.

First up, Adams Morgan Day is scheduled for Sunday, Sept. 9 from noon to 7 p.m. on and around 18th Street and Columbia Road NW, where you'll find live music on two stages, featuring Latin rock, salsa, soul, and plenty of genres from Central America.
Arts on Belmont, which is open from 10 a.m. to noon, features glassware and metalwork, paintings, ceramics, jewelry, sculptures, photography and more from local artists. The event also features cultural exhibits, arts vendors and kids' activities, a green pavilion, and a health and fitness pavilion (but only go there after you've inhaled a weighty cone of Amsterdam Falafelshop's fries.

The following week on Saturday, Sept. 15 , the H Street Festival is set for noon to 7 p.m. Last year's event draw 50,000 people, so it's safe to say this fest has quickly become a major draw.
Along six blocks of H Street NE, you'll find everything from art cars to a tattoo competition to a dog beach (yes, H Street is so hip we can barely choke down our fair-trade coffee) and the more expected food trucks, craft vendors, live music on five stages, and a kids' zone.
Go there hungry if you want to ack out in a patio cafe, or go really hungry if you're aiming to compete in an eating contest -- you'll just have to decide whether you're attacking hoagies or pies.
---
Image credit: jsnjr, Flickr.com.
---
Check Out the Scene: Keep up with what's happening in the D.C. area anytime, anywhere. Follow us on Twitter and Facebook. Sign up for our e-mail newsletters.