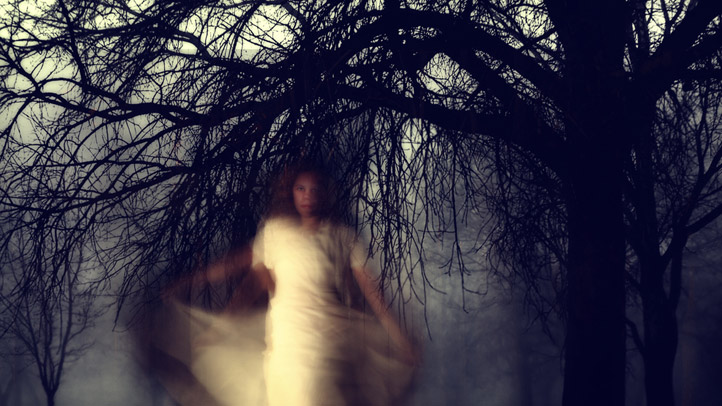 THE DISTRICT:
Lafayette Square Park:
"Violent quarrels, vicious attacks, murder, suicide -- why is it such turbulent events in Washington history seem concentrated around the seven acres of Lafayette Park?" We just don't know! Here's your chance to learn about the history that make the park across from the White House known as "the most haunted site in the city." Thursdays, Fridays, and Saturdays through Oct. 31 at 7:30 p.m.; $15; no reservations required.

More Lafayette Square Park:
"Conspiracies, crimes of passion, duels and assassinations are just a few reasons Washington's Lafayette Park is known as 'Tragedy Square,' or so we're told. Pro tour guides will introduce you to dun dun dun! The paranormal. The tour begins in front of the Dolley Madison House (1520 H St. NW.). Through mid-November; $8-$15; reservations required.

McPherson Square:
There's a ghost expert in town and she knows what she's talking about. Natalie Zanin writes, produces, and sometimes even sees the ghosts on her tours. (Spooky, right?) Hear her tale and many more during the Ghost Story Tour. Meet your costumed guide at 1400 I St. NW. Oct. 19-20, 26-28, 31 at 8 p.m.; $6-$12.

National Building Museum:
"The building's haunted history starts last century with reports of strange incidents. Night watchmen told stories of seeing changing shapes within the veins of the massive faux-marble columns. Others have reported sightings of ghost-like figures walking through the halls, including a security guard who followed what he thought was a limping figure through the museum after hours." The costumed "ghost" of Mary Surratt leads the tour. Oct. 28 and 31, Nov. 4 at 8 p.m.; $12; online prepaid registration required.
---
MARYLAND:
Annapolis:
Take a terrifying stroll through the downtown area and learn about Annapolis' "dark and troubled history, while meeting some of our more spirited residents and visiting our most horrific haunted sites" -- or drown your fears during a Haunted Pub Crawl. Walking tour Oct. 19-31; times vary; $18. Pub crawl Friday and Saturday nights throughout October; 9-11 p.m.; $22-$24. See calendar here.

Ellicott City:
Ye Haunted History of Olde Ellicott City tours vary based on the night, with Part I tours on Friday, and recent eyewitness accounts of paranormal activity on Saturday's Part II tours. $11-$13; all ages. There's also a Spirits of Ellicott City Ghost Tour on the second Thursday of each month. $20; age 21+; call 800-288-8747 for reservations.

Savage Mill:
"To chronicle the Mill's history as well as their unworldly past, a new ghost tour has been created with true stories about Mill workers and their sometimes violent end. The ghost of the Tower is a woman who was in charge of the Mill workers' children back in the 19th century... until falling to her death on the tower's stairs. Another tower houses a bell that seems to ring by itself..." Oct. 20 and 27, Nov. 3 at 8 p.m.; $11-$13; reservations recommended. Call 1-800-288-8747 or e-mail ghost@visithowardcounty.com.
---
VIRGINIA:
Alexandria:
Take either the Traditional Ghost and Graveyard Tour or the Special Halloween Tour. During the traditional tour, follow an 18th-century costumed guide by lantern light while hearing ghost stories and legends. Depart from the Visitors Center (221 King St., Alexandria). Oct. 1-31; 7:30 p.m. nightly with an extra session at 9 p.m. on Fri.-Sat.; $6-$12.; call 703-519-1749 for reservations. During the special tour, "visit the rooms where restless spirits hover" and visit one of the most haunted buildings in Old Town. Depart from the Burke & Herbert Bank on the southeast corner of King and Fairfax streets, Alexandria. Oct. 26-28; tours leave every 15 minutes from 6:30 to 9 p.m.; $7-$15.

Leesburg:
Stroll through downtown Leesburg while hearing about paranormal research and event investigations, Leesburg ghost history, and demonstrations of research equipment. The tour will meet in front of Georgetown Cafe (19 S. King St., Leesburg). Fridays and Saturdays through Oct. 30 at 9 p.m.; $5-$10; reserve tickets here.
---
WEST VIRGINIA:
Harper's Ferry:
Many of the stories on this tour -- which bills itself as America's oldest ghost tour -- are from Shirley Dougherty's 1977 book "A Ghostly Tour of Harpers Ferry." Dougherty had opened a restaurant in the early 1970s and said she experienced a number of unexplainable phenomena that led her to learn about the history of her building. She also heard from others with similar experiences in the historic area of the town. Tour leaves from 175 High St., Harpers Ferry. Nightly except for Sundays at 6 and 8 p.m.; reservations required; call 732-801-0381 by 6 p.m.; $9-$12.
---

MORE SCARY STUFF: