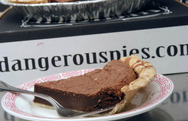 Penn Quarter or the 14th Street corridor: it's hard to say which neighborhood is hotter these days -- at least in terms of restaurant development.
On Monday, it seemed it like everything was happening on 14th Street, with news of new eateries coming soon from both Mike Isabella (Graffiato, Bandolero) and Mark Kuller (Proof, Estadio). (Read more here and here.)
Now, the action is all in Penn Quarter. The Washington Post has the scoop on the new Red Apron Butchery, tentatively scheduled to debut this fall at 709 D St. NW and offering some 3,600 square feet of retail space for Nate Anda's half-smokes, hot dogs and other meaty stuff.
Meanwhile, Douglas Development revealed its latest lease deal, this one with Dangerously Delicious Pies on a new 500-square-foot location at 901 7th St. NW, which is expected to open this coming April.
Hard to say which nabe comes out the victor in this restaurant-space race. But, with increasingly tantalizing options like these happening more all the time, the biggest winner is probably you and me.

Half-Smokes & Whole Slices: Red Apron, Dangerously Delicious Coming Soon to Penn Quarter was originally published by Washington City Paper on Feb. 7, 2012.
Copyright CITYP - Washington City Paper