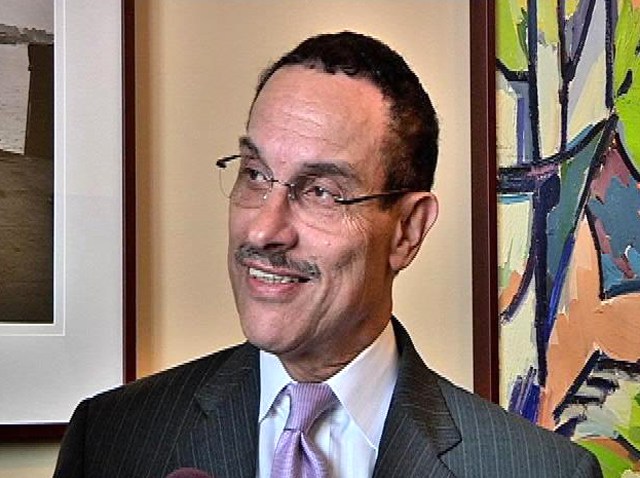 Mayor-elect-elect Vincent Gray may be more powerful right now than he will be after he actually takes office in January. He has the winds of victory at his back, and Adrian Fenty to kick around some more. Plus, Gray doesn't have one of those pesky Council chairmen to deal with.
Gray's likely successor as Council chair, Kwame Brown, seems more likely to be a junior partner to Mayor Gray than the frequent opponent that Gray was to Fenty. Brown and Gray have similar agendas, and Brown wants to be in Gray's good graces for when he makes his own run for mayor. But still, even a friendly chairman requires more finessing than no chairman at all.
And for the next three months, Gray will be both the current chairman and the next mayor. As Freeman Klopott writes in the Washington Examiner this morning, Gray "is in an unprecedented position of power," and "fellow councilmembers likely will succumb to his wishes" as he and Fenty try to work through a nine-figure budget deficit.
Gray is on good terms with most of the Council anyway, and he and his colleagues will want to keep up the good spirits as Gray prepares to become mayor. Councilmember Phil Mendelson told the Examiner, "We will not see the kind of checks and balances seen over the past years where the Council consistently stood up to Mayor Fenty."
Gray took the new mood of conciliation to his first post-election news conference Monday morning. The Washington Post's Mike DeBonis summed up the reaction of most of the D.C. commentariat by calling it a 90-minute "snoozer," but it was still a pleasant change from years of hostility between Fenty and, well, pretty much everybody else. Gray did make it clear that he, and not Fenty, is running the show now, saying that in his role as Council chair he would only push through Fenty nominees for posts critical to "moving the government forward." Asked what those might be, Gray said, "I haven't identified anything."
Of course, there were many questions about the future of Schools Chancellor Michelle Rhee, but Gray postponed anything definitive until after he meets with Rhee this week. In an editorial this morning, the Post says they "need to have a frank conversation, and they alone must decide what happens next. If they decide they can't work together, they should cooperate in ensuring the least disruption to the system at this critical time."
Rhee's appearance on "Oprah," taped before the Sept. 14 primary, was broadcast Monday, and Rhee received Oprah's blessing as "the warrior woman for our time." WAMU's Kavitha Cardoza reported that in contrast to the sharply divided feelings about Rhee in the District, she received "nothing but adoring applause" from Oprah's audience. Cardoza noted that amid the cheers for Saint Michelle, American Federation of Teachers leader Randi Weingarten was given just 63 seconds to respond.
Gary Imhoff of DCWatch, for one, is sick of the Rhee hagiography. He says Rhee "became a national symbol of educational reform and, at least in the national press, the success of her methods was unquestioned," and says that in both national and local coverage of the D.C. campaign, "it became a racial narrative; in fact, it became a racist narrative. Black people, who didn't value education and who didn't want their children to be better educated, voted against Fenty because they were angry that Rhee was improving their schools."
In fact, much of the coverage of Gray's victory hints that "the nation's capital might be on the brink of race riots," as Harry Jaffe writes in the Examiner -- and it's plain wrong. While Jaffe underestimates the divide by saying "there is little racial tension in Washington, D.C.," he is right that 2010 is nothing like 1968. WAMU's Kojo Nnamdi agrees. He's upset that the Post put a shock headline on a deliberative piece he penned about race relations in the city, calling it "a complete distortion of my point of view."
Elsewhere in District politics, defeated Democratic mayoral hopeful Leo Alexander is weighing his options. Alexander is mulling a run in the special election for At-Large Council that will take place early next year, or a bid for the Ward 4 seat against vulnerable incumbent Muriel Bowser in 2012. Alexander is also considering becoming the next Washingtonian to launch a futile challenge against Del. Eleanor Holmes Norton.
A current At-Large candidate, independent Richard Urban, is alleging fraud in incumbent David Catania's ballot petitions. The D.C. Board of Elections and Ethics is considering Urban's challenge, but it seems very unlikely that Catania will be disqualified.
And Washington City Paper's Lydia DePillis noticed that defeated Council candidate Michael D. Brown, the District's shadow senator, still has at least five campaign signs for himself on his own front lawn. Parked nearby: "a gray Acura with 'US SENATOR' plates." Which begs the question: if Brown is really a "U.S. senator," why would he want to take the big step down to city councilmember anyway?
Follow P.J. Orvetti on Twitter at @PJOinDC