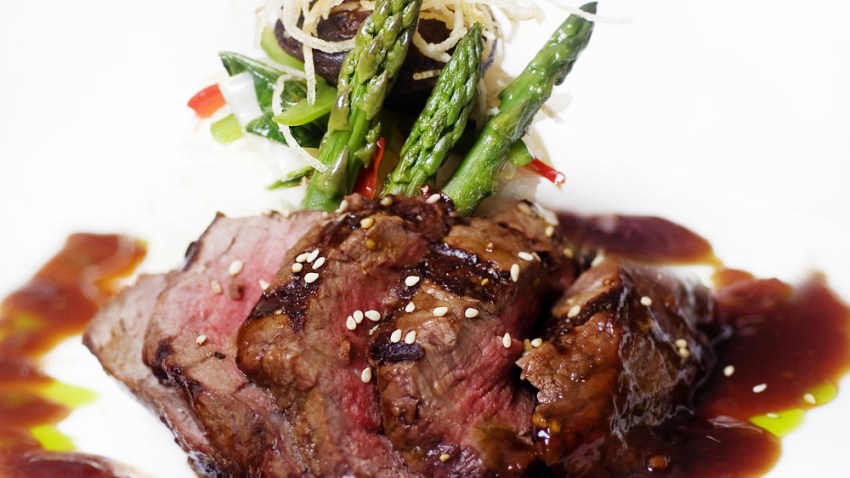 Because another Restaurant week in D.C. is fast approaching, it's time to start thinking about those upscale places to eat you only dream about. So why not indulge yourself and spring for a juicy steak at The Prime Rib, D.C.'s number one steakhouse.
Their delicious signature entrée, roast prime rib normally sold for $41.95, is aged four to five weeks, and then roasted and served with the bone. The Filet Mignon is also a tasty choice from the very heart of tenderloin, trimmed of all fat, and broiled to your order—normally $34.95 for a 10-ounce cut.
If you'd rather opt for seafood, then crab, shrimp, lobster, and just about any other ocean delicacy it is! Try the imperial crab, lightly seasoned and baked in a shell. Or maybe the Chilean sea bass grilled with lemon and olive oil, served with a delicious Maison Vielle sauce of tomatoes, onions and capers. There are always crab cakes, cooked with an award-winning recipe. Most seafood entrees run from $29.95 to $34.95.
Appetizers, salads and deserts are equally as gourmet, and give the main dishes a run for their money. Start your dinning experience with something like the cherrystone clams, escargots, or maybe old-fashioned potato skins served with sour cream and horseradish sauce. Next enjoy one of the many salads offered like a traditional house, Caesar, or a vine-ripened tomato salad. After a hearty meal, a homemade pie made with fresh berries, chocolate mousse, and served a la mode will end your meal right.
At restaurant week's prices the food, nor the elegant atmosphere this place offers will disappoint you. This place was opened in 1976 and designed to imitate the elegant supper clubs of 1940's Manhattan.
The completely immaculate environment, the wait staff dressed in tuxedos, an upscale dress code enforced for the guests, candlelight, and live piano music all make dining here a special occasion every time.
The Prime Rib is open for Monday through Thursday from 11:30 a.m. until 11 p.m. and Friday and Saturday from 11:30 a.m. until 11:30 p.m. Reservations are requested and can be made by calling 202-466-8811.
The Prime Rib
2020 K Street, NW
Washington, DC 20006
More For Locals Only