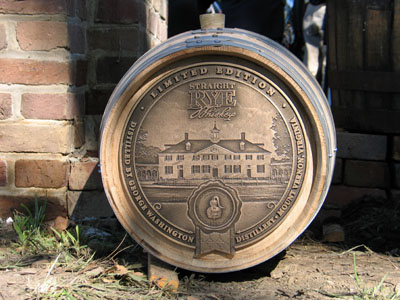 Those of us who dabble in the art of making tasty beverages (limoncello anyone?) can appreciate the passion that George Washington had for a good, stiff drink.
And recently, there has been a return to Washington's distilled roots. George Washington's Distillery recently produced and sold a limited edition of 471 bottles of a rye whiskey made the exact way ol' George would have done it in the 18th century.
And on Tuesday, the distillery at his Mount Vernon estate went a step further and began dabbling in the brandy genre.
Experts from around the country spent the day recreating Washington's peach brandy -- and recipes be damned!
While they had no instructions to follow on this one, they used the same process to make the brandy that would have been used 200 years ago. Word is the brandy was tasty (and strong).
It marked the first time the estate has attempted to use its distillery to recreate peach brandy, which Washington made in smaller quantities.
The makers aren't sure if this batch will be sold to the public, but another batch of rye whiskey will be made next month. That's a good thing, considering the first batch created in June sold out in two hours.