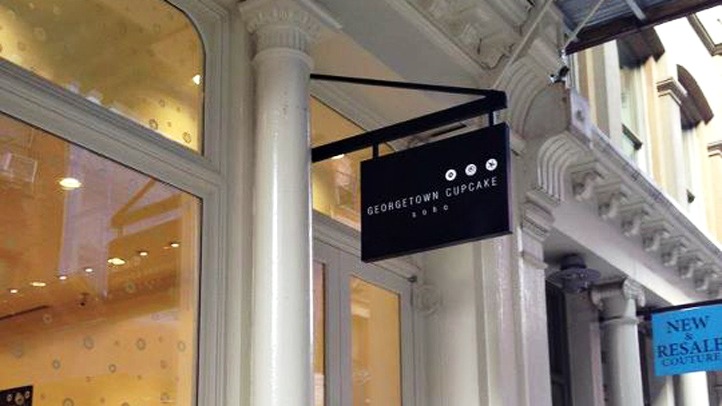 In a city overrun by cupcakeries, overflow was inevitable.
Georgetown Cupcake has taken New York.
Sophie LaMontagne and Katherine Kallinis launched Georgetown Cupcake SoHo at 111 Mercer St. in New York last week, reversing the trend that's had so many New York hotspots opening in the District.
You'll find three new cupcake flavors up in the Empire State: New York Cheesecake (with taxi cab fondant), Apple Crumble (with "Big Apple" fondant), and B&W Cookie (with NYC subway stop fondant).
The sister team, stars of TLC's "DC Cupcakes" and authors of "The Cupcake Diaries," created the new additions as a part of the "I Heart NY Dozen." Decorated to reflect popular city landmarks, they're available only in the SoHo store or online.
"Finding the perfect location was a long process, but we are thrilled to be opening in SoHo which has the same charming neighborhood feel that we looked for in our Georgetown and Bethesda locations," Kallinis said in a press release.
The store has a two-story open space in the back, complete with skylights, for hosting private events and cupcake-decorating lessons. The front of the shop has seating for up to 12 people at four tables.
Following the same model as the other two locations, Georgetown Cupcake SoHo will feature 18 different flavors of cupcakes daily, with weekly specials and seasonal flavors depending on the month. The store will also have a full expresso bar and a wide range of drinks from hot cocoa to iced lattes.
Continuing with tradition, the first 100 customers who can guess the secret (not on the menu) flavor get a free cupcake from the store. (Hint: Check Twitter.)
You can catch all the behind-the-scenes action of the SoHo opening in a one-hour special episode of "DC Cupcakes."
And this isn't the end of Georgetown Cupcake's worldwide domination. A new shop is scheduled to open in Boston (83 Newbury St.) in the spring.
---
Check Out the Scene: Keep up with what's happening in the D.C. area anytime, anywhere. Follow us on Twitter and Facebook. Sign up for our e-mail newsletters.