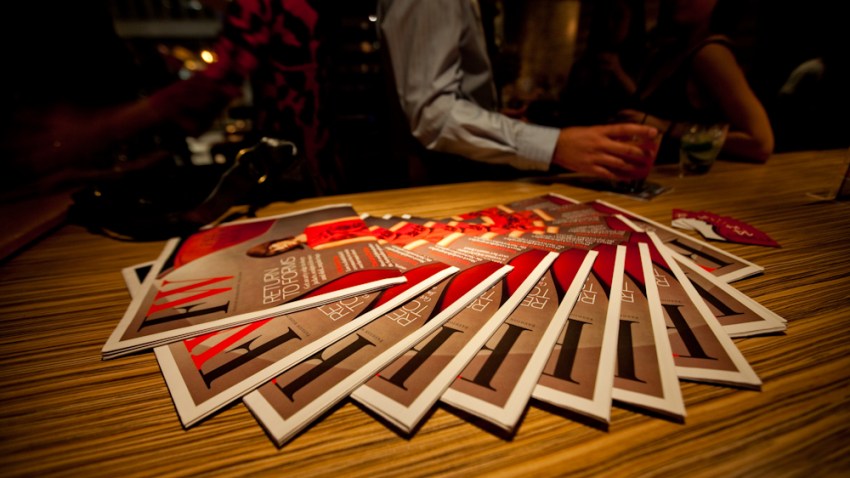 When the Sartorialist himself shows up at your party, you know you're a fashion force to be reckoned with.
FW Magazine
threw a highly anticipated fashion fete last night at the brand spankin' new
Masa 14
to celebrate their one-year anniversary. Current issues of the magazine, published by the Washington Post, covered every available surface, and some serious meet-and-greets got underway with
GQ's Scott Schuman
of the
The Sartorialist
. Fans queued up and patiently waited to get a signed copy of the Schuman's new book of the same name.
Schuman's road to becoming fashion blogger royalty -- he has 15 years in the fashion industry -- has brought him a job that involves finding, shooting and blogging about the best in visually appealing clothing.
Filled with shots of beautiful people in amazing clothes, Schuman's book was much like last night's party: Guests looked as though they were plucked straight from the runway. Men donned ascots and incorporated a little color to their attire, while several women were sporting some serious
Chanel
.
Schuman
wrote on his blog today how surprised he was by the amazing turnout, signing copies for fans until 12:30 a.m.
Well-heeled Washingtonians also got the chance to mingle with FW editors and some of D.C.'s favorite style-savvy bloggers. Phillippe and
Alexandra Cousteau
were this year's 2009 FW Awardees for their work in creating eco awareness through their company
EarthEcho International
. Cocktails were flowing until the wee hours with
Masa
14's amazing liquid libations (you must try the Mojito Masa). Also spotted: cast members from Bravo's upcoming "The Real Housewives of D.C.," which is currently being shot.
Photos by Dakota Fine.